Chairman's Introduction
​
The past 12 months have probably been the most demanding period since the club was formed in 1948. We have not only had to manage the normal admin and playing commitments associated with 8 teams but have also been involved in :
Formulating successful bids with Sefton Council and Sports England to obtain partial funding towards new premises.

Negotiating with Marine FC for the lease of land for our new premises

Increasing our own club efforts to raise funds, including various club functions, to assist in paying for new premises.

Holding regular meetings with Marine FC to discuss and take forward our building project in conjunction with their own project.

Obtaining suitable estimates to support the submission of funding bids for new premises to Sefton council and Sports England.

Obtaining suitable architectural plans for the proposed new premises.

Setting up a property project group from within the committee to meet regularly and take forward all aspects relating to the project.

Obtaining suitable building contractors for completion of work once the purpose built table tennis room is placed on site.
To put our successful hard work into perspective, I believe we are the first Merseyside table tennis club, since the inception of the LDTTL, to obtain funding to enable them to own and manage a purpose built table tennis club. It is only through the diligent, organised, commitment of committee members, backed by the support of all members that we have reached the position whereby new premises are no longer a dream but will become a reality in the forthcoming weeks.
Below you will find various reports and information about our club, and our teams in the LDTTL. We would welcome any relevant feedback.
​
Ian McElwee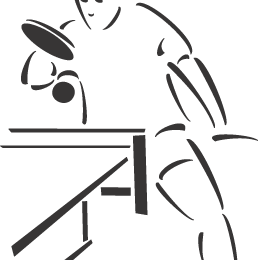 Secretary's Report
I would like to start this report by saying a very big 'thank you' to all of those members of the Club who have either volunteered their services to the club this year, or in so many ways have been of positive help in what has been a fairly 'full' year! I would like to specifically mention members of the Club Management Committee, and also those who have captained the club's teams in the League in the 2018/19 season. And also Jenny Givens, who has provided me with help in relation to the league season, especially as far as cup fixtures are concerned.
This year has been another of growth and consolidation, in which our total membership has topped 100 for the first time ever.
The year has been dominated by our quest for new premises. We are hoping that the new building will be open by 1 June, if outstanding legal issues, on which we are actively working, can be resolved. We believe they will be enabling the new build to be delivered.
The property project itself has been tough and at times complex and difficult. Here I would like to single out the efforts put into this by Billy O'Hara as our architect and Ian Brownrigg as our Treasurer. I think I have dragged poor Ian to almost every meeting over this past year and not once has he complained!
Throughout the year our playing activities on the table tennis table have been strongly supported by a thriving social face. The year started with the dinner and dance on the 1 June, and there have been several enjoyable social nights since – my wife even won a significant cash prize at such an event, a real bonus – even if I didn't see any of it, as she promptly gave the money away again! The end of season dinner and dance this year will be on Friday 26 June at Marine with tickets priced at £12.
​
What is so encouraging about our social events is that not only have they been very well attended, but they have also enabled us to increase our property fund to £8,000 (£5,000 this time last year). Much needed cash, as we work out how we are going to pay for the new building!
​
On the playing front, once again we entered 8 teams in the L&DTTL. But were unable to enter the JDD. This was because the JDD match night was changed and ended up being an inconvenient evening for the majority of our juniors. The inability to get into the JDD unfortunately resulted in the loss of 2 talented juniors. Our junior section has however continued, and we have increased to 9 regulars.
In the league, we had 2 teams in Div 1, both survived and the highest placed team finished in 4th spot. We had three teams in Div 3; two narrowly missed out on automatic promotion finishing 3rd and 4th with the other just below mid-table. One team in Div 4 that finished 5th and two teams in Div 5. The F Team in 5 was on course for a 3rd place spot but was severely affected by player injury in the second half of the season resulting in the team slipping back to 4th. And what can I say about the G Team? They are the best supported team in the whole league, and provide the best homemade scones in the league. They also improved on the points scored last season! I think it is fair to say that all of our teams were a credit to the club and played with great sportsmanship throughout and provided great hospitality to visitors. Full reports on all our teams will appear in the Club Newsletter, to be published online shortly after the AGM.
All our teams also played in the respective Divisional Cups; with our D Team (Ian McElwee) reaching the final of the Div 3 cup. We may also have reached the final of the Div 5 cup if 2 of the team members hadn't decided to go on holiday on the match date, and another fell to injury!
Sadly, this year was a bit of a disaster in the Veterans Handicap Cup, in which we have done so well in recent years. Unable to get some of our best players playing in this event this year, meant we fielded weakened teams, and paid the price!
Over the past year the Club Management Committee has met together 5 times, and Minutes are regularly posted to our website. We have also had a property sub-group that has met regularly and taken on the many tasks arising from our exit from the old club room and planning for the new. We also held a SGM. In addition, there has been a small unofficial 'social' committee looking after the various social and recreational features of our club.
The Club has continued to use the Internet to publicize its presence and to relay news and other stories. I do hope you follow it! And we have maintained our presence in social media using Facebook, including weekly updates and pictures over the league season.
Following the introduction of new UK wide regulations, the Club, following the example of the Liverpool League, has introduced a new data privacy policy and asks all members to provide a data consent. The policy is published on our website. If you haven't already completed a consent form, could you please do so before you leave this evening.
The club continues to have an active Health & Safety policy. We have had a couple of incidents over the last year, fortunately not too serious. These have all been properly dealt with and the facts recorded in our log. Members safety remains of high importance to us.
Our Club tournament was held at Crosby High School last year with the Finals Night at the Club. For the first time both the main event and the consolation singles were won by Juniors. Both only 14 at the time! Nathan Jago had a brilliant win in the Ron Georgeson Handicap Singles and Euan Mason won the Consolation Plate. The Final of the Fun Doubles was a tremendous match with Colin Turner & Mary Sefton winning at deuce in the deciding game in a 3-game set. For this year's tournament we will be back at Anfield on Saturday 7 September. Put it in your diary, it will be a great pre-cursor to the new season.
Overall it has been a busy year, but because of the magnificent team of volunteers that we have tasks have been spread quite widely. The way in which that team has worked together has been a great strength of the year and it is one which has seen us through, and which I believe gives us confidence for a strong future.
The end of season dance and the forthcoming National Table Tennis Day (Thursday 18 July) give us further opportunities to showcase the quality of the product and the facilities that we have on offer. I, for one, sincerely hope that we make the very best of these opportunities to promote table tennis and grow our club.
I would like to thank every member for their support over this past 8 years whilst I have had the privilege of being your Secretary.
Graham Turner
Treasurer's Report
A copy of the accounts for the year to 30 April 2019 as presented to and approved by the AGM is available from the Treasurer or Secretary. These showed a profit for the year of £3,852. An increase to our property fund to £9,164 of which £1,164 was used on our first tranche of expenditure on the new property project, leaving a balance of £8,000 in the property fund at the year end, an increase from £5,000 last year. Overall a very satisfactory financial result. We now face a year of serious transition as we take on for ourselves and for the first time the full costs of running a 7 day-a-week thriving table tennis club.
​
Ian Brownrigg
Social Secretary's Report
A report of the social side of the Club is included within the Secretary's general report above. Details about many of our social activities can be found under News Stories.
​
Ron Georgeson Memorial Trophy
The 2017/18 Club Tournament was held in September 2018 at Crosby High School, the home of the Crosby TTC. It was a great occasion with plenty of play for all. The Finals were held at Marine in the following week. A full report can be found under News Stories. The winners were:
​
Ron Georgeson Trophy:
Winner: Nathan Jago
Runner-Up: Josh Taylor
​
Singles Plate:
Winner: Euan Mason
Runner-Up: Mark Benson
Fun Doubles
Winners: Colin Turner & Mary Sefton
Runners-Up: Nathan Jago & John Donnelly
Liverpool & District Table Tennis League - 2018/19 Season
The Club entered 8 teams into the Liverpool & District Table Tennis League for the 2018/19 season, and all also took part in the respective Divisional trophies. In addition the Club entered 6 teams into the Frank Murphy Memorial Trophy (the Veterans Handicap Cup).
TEAM REPORTS
1st Team (Div 1)
Members: Barry Davis (Cap't), Matthew Wilson, Colin Turner and Ken Jackson
​
Position in Div P W L GW GL Pts
8 20 6 13 74 126 74
​
Captain Barry Davis reports, "After being promoted from Division 2 we began the season with little expectation. Our objective was to survive in the very tough world of the 1st Division.
We began the season with a game against the League champions and it didn't get any easier as the season progressed. In our second game Matt was unfortunately injured and it wasn't until the game before Christmas that he was able to return to the table. We finished in 8th place with 74 points. We used 7 reserves to cover our absences and I am very grateful to Ken Jackson, Dermot Tierney, Darren & Josh Taylor, Ted Cramsie, Ian McElwee and last, but not least, Brian Crolley for helping us out.
Colin and I nearly managed to reach 30% but Matt had a magnificent average of 62%. His style of play is unique and fascinating to watch. Some of his opponents are bewildered and he troubles some very experienced players. Some don't give him enough credit for what he does. I fully appreciate his effort and achievements and congratulate him on a great season.
As the season progressed another objective emerged. That was to avoid the dreaded whitewash. We managed to achieve this, which was very commendable.
One of the main strengths of a team is having a regular consistent line up. Apart from Matt's injury lay-off we achieved that. Colin and I have had a few highs and a considerable number of lows, but we try hard giving it everything and we take our defeats in the right spirit.
I think next season could be even tougher with some good teams being promoted from the 2nd division. It will be interesting to see if we can survive or improve next season. That will be the aim."
​
A Team (Div 1)
​
Members: Dermot Tierney (Cap't), Clare Peers, Keith Williams & Steve Green
​
Position in Div P W L GW GL Pts
4 20 14 4 118 82 118
​
The Club's newest team captain, Dermot Tierney, reports "this season there was a bit of a change from our regular team line up. Previous captain, Dave Roberts, has taken time out from table tennis due to ill health, and was greatly missed in the team. We wish him well and hopefully will see him back playing soon. The regular line-up this year consisted of Keith Williams, Clare Peers, Dermot Tierney with Steve Green chipping in a few matches and also Ian McElwee and David Lovelady standing in for a match.
Our final league position of fourth overall was a great achievement given the quality of opposition that finished ahead of us; Maghull (3rd), Crosby High (2nd) and Merseyside Police (1st). I think this respectable league position was down to the consistent line-up and consistent results achieved by the core team players Keith, Clare and Myself. Some important results were; our first match with Jaguar Land Rover where, with two players, we managed a 6 - 4 win. Had it been the other way around JLR would have finished fourth. Keith has performed consistently well throughout this season with a win average of 76%. He started the season off in flying form with max wins against Jaguar Land Rover and Police, which included a win over Thomas Hadley; not many manged to do that this season! For the rest of the season Keith won the vast majority of the matches he would expect to win, but maybe didn't do as well as he would have liked against some of the very top players. He was carrying a niggling injury for part of the season, which impacted some performances along the way but he didn't moan and battled on turning out each week. Clare also performed consistently well this season with a win average of 60%, an improvement on an injury prone last season. Good wins included a comprehensive win over Paul Hutchings and Johnny Taylor. Clare's only table tennis each season is the league matches; imagine if she had done a bit of training or knocking outside of the league! I also had a good and improved season, achieving a win average of 54%, including a good win over Arron Beach. I personally think my improved performance is down to some additional practice outside and before the league started; hopefully I can continue to improve into next season and try to pick off a few of the higher-level players.
Hopefully we can build on the season and maybe aim for a third place finish next year!"
​
​B Team (Div 3)
​
Members: Brian Crolley (Cap't), Andy Cheung and Mal Kent
​
Position in Div P W L GW GL Pts
7 22 7 12 97 123 97
​
Captain Brian Crolley says that "having been demoted from the 2nd Division, you would have thought we would have been in the mix to go straight back up! However, it is funny the way things happen. When the season started, I think we were still in the mode of being beaten week in, week out, and could not get out of it! Certainly, this was a big problem. So, I had to get a new bat and ball and start again. Not easy when you come across the likes of Big Dave Noden and his BSM "C" team, and then Ian McElwee and his BSM "D" Team! Two very big derby matches. But in the end Andy Cheung and Mal Kent saved us with some big wins and myself just chucking in the odd win here and there. The second half of the season was a little better; Mal Kent once again being he Star Man. So, we hung on to get to a mid-table position and we are hoping that we can do better next season. I have got to thank Keith Dudley, Dave McMahon and Ned Hassan for filling in when I needed to have a substitute player when Andy took his regular trips to Hong Kong in November and January. I also need to thank my players Andy and Mal for their consistent help all through the season." Team Member Mal Kent adds, "we have laid down our bats after our last game of the season. Our team has had a successful season and earned some great points in some difficult matches. As usual we have kept our sense of humour and all have played some great table tennis. It is sad to see the old clubhouse go but we look forward to the new era in the new clubhouse".
Above 1st Team regulars of Colin Turner, Matt Wilson & Barry Davis. In their first season as a team in Div 1, Matt was the most successful player returning an average of 62% from his 13 matches. Both Barry & Colin played in 18 out of 20 of the teams league matches.
And below the 3 regular members of the A team, Keith Williams, Dermot Tierney and Clare Peers. Clare continued to be the league's top lady player and returned an average of 60.4% from her 16 matches. Keith topped the teams averages with 76% from his 18 matches, a top-class achievement. Dermot, captaining the team for the first time also continued his improvement with an average of 52.6% from 19 out of the 20 matches.
One of our most regular and consistent teams, The B Team of Andy Cheung, Captain Brian Crolley. and Mal Kent. Sporting their preferred 'away' kit and always with a smile on their faces, win or lose.
C Team (Div 3)
Members: Dave Noden (Cap't), Darren Taylor, Ted Cramsie & Josh Taylor.
Position in Div P W L GW GL Pts
3 22 14 4 137 83 137
​
Captain Dave Noden reports, that "once again, the opening day fixture gave us a true indication of the competitive nature of this division. Paired against our D team, a 5-5 result meant that Dave and Darren had never been on the winning side after the 1st match of the season, since 2011/12!
Better fortunes and performances followed in the next 3 matches; against Merseyside Police C, Arriva NW and Bootle YMCA plundering 8, 9 and 8 points respectively to top the table at the start of October. But we had played a match more than other pacesetters and division favourites Wavertree Labour D and QVC.
Then the wheels came off! Dave, who had been unbeaten in 11, came away pointless in the next two fixtures, against Cadwa A & B (which included a five-game defeat to a fortunate Paula Adamson). In a bad night the only consolation was an unlikely 'straight' win in the doubles for Ted and Dave.
The 'wheel' was fixed when we trounced 2nd placed QVC 8-2 to 'leapfrog' them; strengthening our previously weakened position.
We finished the first half of the season strongly and in 2nd place despite a loss to table toppers and champions elect Wavertree Labour D, the highlight being an 8-2 derby win against our B team albeit a somewhat fortuitous and hard fought but welcome win.
Another draw against our D team, followed by a draw with Merseyside Police C. Then another surge where we gained 24 points in the next 3 matches including a 9-1 win over Cadwa B, avenging our 1st defeat of the season in the corresponding earlier fixture.
'Avenging' was certainly QVCs priority, reversing the 8-2 result by fielding a full-strength line up of Dean Appleton, Andy Clarke, Panchu Xavier with John Appleton playing in the doubles. Josh played in place of his Dad, Darren, and was unlucky not to beat Dean as was Dave, but there was some consolation, as Ted beat Dean (3 straight) and Ted and Dave won the doubles.
It looked inevitable, that 3rd would be the highest position we could finish and as all results went to form and calibre, so it proved. It remains to be seen if, due to any re-structuring of the divisions by the League, we are offered promotion. It looks a strong possibility, although it would have been nice to gai A this 'dubious honour' on merit!
In the cup competitions a bye and a 5-1 win over Cadwa A saw us into the Divisional Cup semi-final for the 2nd year running where we again had to face QVC; and as last year, we lost! In the Veterans Handicap Cup, in which we've done well in recent years, reaching the final last year, it was not what we hoped for! Losing in the 1st round to a strong Merseyside Police side, by just 6 points!
All in all, not a bad outcome, an improved position from last season, a place higher and with 11 more points. A thoroughly enjoyable and competitive season. Can't wait for the next one!"
​D Team (Div 3)
Members: Ian McElwee (Cap't), David Stoddern, Dave McMahon, and Les Dodd
Position in Div P W L GW GL Pts
4 22 13 7 126 94 126
Captain Ian McElwee, reports "the season started slowly with only Dave Stoddern and I plus reserves available to make up the team. To make matters worse Dave missed a couple of matches and I missed one due to holiday commitments. Josh Taylor came in for me when we faced CADWA. He won his 3 singles and combined with Dave to take the doubles. Dave won 2 and Andrew Armstrong 1 in a fine 7:3 win.
The turning point of our season came when new signing Dave McMahon played his first match alongside Dave Stoddern and I as we had an 8:2 win over Arriva NW A. Dave Mc has been a fine acquisition and once we settled into a settled team we started winning on a regular basis in the run up to the December break (other than 1 blip when we went down 10:0 to the eventual champions Wavertree Labour D!)
Young prospect Euan Mason supported the 2 Dave's when we faced the club C team in the first match after the restart to the season. (I, sadly, was in the IoM attending the funeral of ex-club player and friend Ricky Brown). Dave Mc won a couple and combined with Dave S to take the doubles. Dave S got the better of Ted Cramsie and Euan confirmed his growing maturity and ability coming back from 2 down to gain a 5th set 11:9 victory over Dave Noden.
The second half of the season continued in much the same vein as the first with some excellent wins including 9:1 v CADWA A, 7:3 v Sefton Park and 7:3 v our B team where I had a tight 11:9, 5th set, win over Andy Cheung. Mal Kent was in top form beating each of the Dave's and the club youth policy, in the form of Brian Crolley, got the better of Dave Mc in 5. We went from strength to strength once I became unavailable due to illness. The final 4 matches were all won as we accumulated 30 points. Euan again displayed his improvement with brilliant wins over the experienced Ian Burrows and Vaclav Holcman in the defeat of CADWA B.
Les Dodd became available in these latter weeks and proved how we had missed him in our group, winning 2 in each of the final 3 matches.
In total we had to use 8 reserves throughout the season. Bearing this in mind we did well to finish in a respectable 4th place in the division.
We reached the final of the Hyde Cup. I incurred an injury in my first set which restricted my movements and resulted in my losing that encounter. I was unable to take part in the rest of the match and although both Dave's fought valiantly we failed to get on the score board."
​
E Team (Div 4)
Members: Andrew Armstrong (Cap't), Peter Ashley, Keith Dudley, Euan Mason, Ray Hibbs & Ned Hassan.
Position in Div P W L GW GL Pts
5 24 15 6 138 102 138
Captain Andrew Armstrong says, "it's been a great season with Bath Street Marine E team finishing in 5th place. We have had the pleasure of watching a new star player start to emerge, in the form of Euan who turned 15 in the season. Euan came into the team at No.4 but also played higher if we had a player missing. He also proved to be the most successful team member, playing in 22 out of 24 of the teams matches, winning 30 sets and returning an average of 68%. Euan showed great maturity with some tremendous wins over very experienced, high quality players. Life was tough this year for Peter Ashley, playing at No.1 but he still managed to return an average of 54% from his 13 matches, not quite as many as last season. Keith Dudley, making a very welcome return to full time play, played in 23 out of 24 of our matches with a return of 41%; and had a good season. Finally, yours truly! I also played in 23 out of 24 matches with a return of 58% which I felt was pretty good playing at No.2. Overall a great season and see you next season in our new home".
​
F Team (Div 5)
​
Members: Mark Benson (Cap't), Graham Turner, Sunil Sapre, Steve McCormick & Richard Woodley
​
Position in Div P W L GW GL Pts
4 24 14 6 145 95 145
​
Team Captain, Mark Benson, says "when I joined BSM, I never thought I would be asked to captain a team! So, when I was asked, I was overwhelmed! I was also surprised how much organizing and sorting a playing season involved. But I was determined to succeed in every way possible! And started off by buying the team a new strip, to show the other teams that we play as one team! Not just a group of individuals who turn up with a bat! I like to think that our team line-up was based on a scorpion analogy; where Graham was the pinch at the front, Sunil was the main support in the middle, I was the strength of the tail and Ste McCormick, the sting of the tail! We would become this new team, tough to beat.
​
In our first 8 matches, we were unbeatable. An impressive start in my opinion, considering this was my first time being a captain. Six wins and two draws – including an excellent draw against Harold House A who included a 1st Division player in their line-up. But, being in charge of a team, brings problems and an unexpected defeat at the hands of Arriva NW C was followed by a defeat to high-flying QVC A, despite Graham's efforts in both matches. These were to be the only 2 defeats in the 1st half of the season
​
Somehow, things seemed to go wrong after the Christmas break; performance levels dropped and then we were struck by injuries. First, the strength in our tail was taken when I accidentally sliced a tendon in my hand, resulting in my then being out of action for the remainder of the season. Then Steve McCormick injured his hamstring and had to pull out for the final quarter of the season. Fortunately, we had substitutes to call on. Richard Woodley transferred up to our team, and for the last few matches Stuart Reid moved up to help. We were also lucky enough to get David Lovelady to play a couple of matches, but sadly he was unable to play in some key fixtures which left us considerably weakened for those matches against the top sides. There was further disaster when we found ourselves through to the semi-final of the Division 5, Divisional Cup, and on the match date 3 key players (Graham, Sunil & myself) were unable to play! Despite these adverse issues we were still hanging on to third spot in the Division. A draw in our last match with Greenbank B, one place behind us, would have been enough to hold onto that position. But it was not to be. An absolutely disastrous performance in the final match saw us slump to our worst defeat of the season, finishing in 4th spot. Despite this disappointing finish I was impressed by the number of points we had won and was reminded that it is the taking part that counts. The fighting spirit of BSM F proved that."
​
G Team (Div 5)
​
Members: Keith Hardman (Captain), Stuart Reid, Tony Rimmer, Barbara Alcock, Tom Bell, Mary Delamere, Ian Brownrigg, Bernard Cooney, Lesley Blanchard, Jenny Givens, Des Logan, Liz Adams, and Su Young
​
Position in Div P W L GW GL Pts
13 24 0 24 25 215 25
​
One of the toughest jobs in the table tennis club is to be the captain of the 'squad' which forms the lowest ranked team of the club. The dual problem faced is that you have a whole pool of resources to choose from, far more than you actually need, which makes it difficult to know who to choose. Especially with such a diverse range of abilities in such a large squad. Second, is the fact that a number of the people in the squad have little or no experience of league table tennis! Keith Hardman willingly took on this role, for the second season. The squad were however delighted to welcome back Stuart Reid, but playing at the top of the order is always tough, and especially so this season in Division 5 as there were some unusually strong players playing at No.1 or 2 in the division this year.
With so many strong teams in the division this year there was little success for the team, and once again they found themselves rooted to the bottom of the division. But the good news is that they scored more points than last season. Captain Keith says, "although we propped up the league for the second time it was a pleasure being their Captain once again, our spirit never waned in any of our matches. I would like to say a big thank you to Ian Brownrigg for taking over the team when I went to New Zealand and also a big thank you for the support we got for our home matches.
For all the players who took time to play, a massive thank you, and last but not least, on behalf of the team and visitors I would like to say thank you to Barbara Alcock for the scrumptious scones she made for home matches. We may not have won the league, but we certainly provided the best hospitality!" It is also worth noting that this team regularly included two octogenarians still actively playing competitive league table tennis, an inspiration to all and testimony to the fact that table tennis truly is a sport for all ages.
​
​
Above - the B & C Team together. With 3 teams in Division 3 this year, derbies were a regular feature. But rest assured that although it all appeared very friendly, there was intense competition when they played!
And below a very casual looking C Team of Ted Cramsie, Captain Dave Noden and Darren Taylor.
Above - on another derby occasion, the B Team with the members of the D Team, Ian McElwee, Les Dodd, Dave Stoddern and Dave McMahon.
And below the D Team receiving their runners-up medals for the Hyde Cup, the Division 3 Divisional Cup.
Above, the E Team (Andrew Armstrong, Keith Dudley & Euan Mason) exiting the Peter Ross Table Tennis Room after their last match on the very last day of the season. The very last match to be played here before the venue was closed and then knocked down.
Euan was a star member of the E team this season, just as he turned 15! Below he is with the 4th member of the team, Peter Ashley.
Sporting their new team outfits, the original members of BSM F, Graham Turner, Mark Benson (Captain), Steve McCormick & Sunil Sapre.
And below, Graham & Sunil with Richard Woodley and Stuart Reid who came in to replace the injured Mark & Steve.
Above, members of the F & G Teams on a Division 5 derby night. The F Team on the left of: Graham Turner, Richard Woodley, Steve McCormick & David Lovelady. And to the right the G Team: Tony Rimmer, Keith Hardman (Captain), Ian Brownrigg, Stuart Reid, Barbara Alcock, Tom Bell & Sue Young.
​
And below, a few of the G Team with the addition of Bernard Cooney.
Who is who?
And to finish with here is a mini picture quiz for you!
​
See if you can answer these ???
​
Which two players took on the responsibilities for being a team captain for the first time in the 2018/19 season? ………………………….
​
​
​
​
​
​
Which player playing his debut season for the Club was a member of the only team to reach the Final of a L&DTTL Cup competition in the 2018/19 season? ………………………….
​
​
​
​
​
​
​
And which player appeared in the Hyde Cup Final in both 2019 and 2005, being on the loosing side on both occasions? A blast from the past picture here. ...................................................................
​
​
​
And last ?
​
Who lost their head attending the TTE National Conference in March 2019?
​
………………………….
​