News Release - BSMTTC News 30
Dateline: 7 September 2015
Here we go again!
The start of another new table tennis season is upon us, and with all 5 divisions of the Liverpool & District Table Tennis League just about full it looks like being a long season with strong competition throughout. With 14 teams in each division, some might perhaps say too long! Still, it should mean there is no shortage of matches and every team member will get a full opportunity to compete.
The Club has 9 teams in the League this season, an increase of 1 on last year. Three teams will be playing in a new division as a result of promotion and despite finishing in a relegation space 1 team lives to fight again in the same division as last season. A decision was taken by the Club's Management Committee to try and divide up the squad of players that made up the team in the lowest division, so that this season we will have two teams in the lowest division. Keith Dudley has agreed to take on responsibility of captain for the new team.
Here is a brief look at each of the Club's teams, and how they might fare.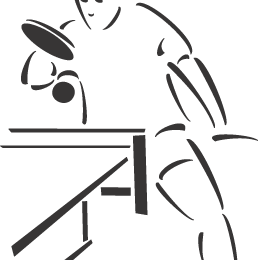 1st Team (Division 1)
Under the leadership of experienced captain and arguably the Club's best player, Ken Jackson, the team should once again hold their own in the middle of the first division. Ken is supported by Tony Kendall and Fred Bainbridge. All have been around the first division for a good while, but some of the other teams in the division have added new stronger players to their line-up so the team may have to fight even harder to maintain its position in the middle of the table. Much will depend on Ken's own form and whether the team can turn out a consistent trio week on week over the whole season. Around 7th would be a good finish.
A Team (Division 1)
Again a very settled squad at this level, who put in an exceptional performance last season to finish 1 place above the 1st Team! Captain Dave Roberts suffered a little from injury at the end of last season but hopefully he will be fighting fit again for the new season. Being a seasoned and strong competitor at this level Dave's leadership will again be a key element to how the team perform. Last season's star was Clare Peers and if Clare can repeat that performance the team should once again be able to hold its own in the middle of the division. Dermot Tierney makes up the trio and continues to grow in experience at the top level. If he is able to build on the improved results of last season then this should ensure a finish similar to last season. Maybe they might even finish 1 place above th 1st team again? So, let's stick our neck out and predict a 6th place finish!
B Team (Division 1)
A third promotion in 3 successive seasons leaves the B Team of Barry Davis (Captain), Ricky Brown and Ian McElwee facing life in the top flight, for the first time in Barry's case. Ricky and Ian have both been here before, and know just how tough it is going to be for a newly promoted side without a recognised first division star in their ranks. But one thing is for certain, this is a team of fighters and any team facing them will come away knowing they have been in a battle. Expect all three players to contribute wins, but winning matches is likely to prove much harder. The team also have the disadvantage of having few quality substitutes they can call on this season so a key issue is going to be their ability to field a full and consistent side throughout the season. The team know that life is going to be tough this season, but maybe they will just pull out a surprise and hold on to their place in the top flight. A finish of 12th out of 14 would be a very good achievement in their first season at the top.
C Team (Division 2)
Promoted from Division 3 last year and re-branded to the C Team, captain Ted Cramsie will have to utilise all his experience to lead and motivate his troops this year to ensure that they don't drop straight back to the lower division. However he has already breathed new life into the team with the signing of the very strong Julian Quirk to boost their chances of survival. The key issue however is likely to be the progress of 19 year old Sam Pierce as he steps up to the higher level for the first time. Sam is well capable of performing at this level and if a clash of fixtures between the Liverpool and Southport Leagues can be avoided so that Sam can play regularly in Liverpool then the team might just be able to surprise a few. It is difficult to know just where the team might finish, as this is always a very strong division with some very good experienced players in each of the teams. A good achievement will be to keep their place in the division and to finish on or just below the middle – 7th would be excellent!
D Team (Division 2)
Having finished second to bottom in this division last season the team of Dave Stoddern (captain), Rob Peat and Colin Mitchell, feared that they may lose their place in the division. The good news is that they have been granted a reprieve and live to fight another day. Colin in particular will have gained from his experience last season – his first at this level, and will know what to expect from the off and this should lead to a slight improvement in results. Much will again be on the shoulders of Rob who in the last couple of seasons has proved that he is a very able player at this level. If Dave can continue to put in consistent performances and pick up on average a set each match then it should be possible for the team to secure their place in the division without having to rely on a reprieve, but it will be another hard fight. But if the team can secure a 10th or 11th place then they will have justified their reprieve.
E Team (Division 3)
When you have been around the 3rd Division as long as Brain Crolley (team captain) then there is little that you don't know about competing in this mid division which frequently has players with a real mix of ability. At this level Brian and his team mates Andy Cheung and Mal Kent will give every team a hard fought match. With Brian you can expect a late finish and for every single point to be hotly contested. But you can also expect a most enjoyable evening with great hospitality and a friendly welcoming atmosphere. The team have consistently finished just above the middle of the table and there is every expectation that they will do the same again. It could be 5th or it could be 7th, but expect them to be around the middle.
F Team (Division 3)
Having narrowly missed out on automatic promotion from Division 4 last season team captain Dave Noden was pleasantly surprised to find that the team had nevertheless been pushed up to the higher division, an aspiration which all the team members shared. So now the team of Dave, Micky White and Darren and Josh Taylor have to prove themselves at this higher level. Darren certainly has the capability to lead the line and will be the bedrock of the team. Micky has the skills to win games and if he can find steady consistent performances at this level and curb some of his occasional 'over enthusiasm' then he will also be a threat to all teams. Both Josh and Dave are also well capable of winning games at this level, but Dave may need to improve his consistency too to make a real impact. Expect this team to be also competing around the middle of the table and to be in competition with their club mates of the E Team for a place in the top half of the table. Anything from 6th to 8th would be a good performance – and keep an eye out for a possible surprise.
G Team (Division 5)
This will in effect be a new team under the management of Keith Dudley who becomes a club team captain for the first time! The bedrock of the team is expected to be Keith, the legendary Billy Clayton and new girl Julia Cornish who joined the club last year. But they could also find themselves with some support from higher ranked players. A newcomer to Marine is Miguel Monteiro, a young man from Portugal who has been in the UK for a while but recently moved to Liverpool with a new job. Although a little rusty Miguel looks like a good player. Unfortunately for the team he is currently awaiting surgery that may keep him out of play for a couple of months but if he is able to fit in some matches before his operation that will be a big boost. Another new member to the Club is Peter Ashley, another up and coming player – but of more mature years! Although he will not be playing regularly in Liverpool his contributions to the team could also be decisive. Acting Club Secretary Graham Turner may also find himself in this line up unless he gets dragged up to one of the higher teams, and if so this should also be a strong boost for the team. With so much uncertainty it is almost impossible to know how the team may finish, but if some of the key new players can be kept in the team then expect this team to be competing in the top half of the division, with a top three place being entirely possible.
H Team (Division 5)
Last year's team captain, Des Logan, has indicated his wish to stand down as captain this year, but nevertheless is expected to be working with the new incumbent to manage the squad of players that will make up the H Team. Club Welfare Officer Mary Delamere will be taking over the squad management as she has the advantage of knowing the majority of players in the squad. Age and health are the key issues faced by the captain as well as the large pool of players of very mixed ability. The aim here though will be to give as many as want it an opportunity to play competitive table tennis in the league. The team will include regulars like Tom Bell, Barbara Alcock, Des, Mary and Liz Adams. But there are newcomers too. Michal Ozarek has joined the Club recently and his keenness will lead to rapid improvement in ability which should help the team. Another potential newcomer is local lad Dave Cooney, who although he has not played for a while has real potential to add value to the squad. It looks though as if stalwart Albert Parker may be forced to take a bit of a back seat this season, but may pop up in the new doubles format that will apply to this division this season. If the team can also obtain some contributions from Billy Clayton before he moves up to the higher team then it should help them get points on the board. Don't be surprised however if this team are found propping up the division for much of the season. What is for certain is that they will compete for every match and provide a most enjoyable evening for all visitors to Marine. They will also provide an opening for any member who wants it to experience competitive table tennis. That's what the Club is all about.
In conclusion.......
Well, what more can be said? Perhaps 'bring it on' is the appropriate conclusion? There is no doubt that it is going to be another year of tough competition, and we will ty and keep track of all the team's results through this site. Maybe some of the teams will also be able to collect some team photo's this year so that we can bring faces to the names! All that really remains is to wish all of the teams well. We play to win, but it is the way that we play the game which is of utmost importance and here we have no doubtthat all Bath Street teams will seek to show the highest spirit of sportsmanship and any team visiting marine can be certain of a warm welcome, both on and off the table!