Chairman's Introduction
Welcome to the second edition of BSMTTC News. The last year has been dominated by the issue of uncertainty over our premises. It is good to know that issue now seems to have receded, at least for the time being, and that as a Club we can continue to enjoy the use of the Peter Ross Table Tennis Room on this exclusive, 7 day a week, basis for probably at least another 3 years. It has also been another year during which we have been able to provide table tennis at every level. Very few clubs in the Liverpool area can boast having premises available 7 days a week and being able to offer both social and recreational table tennis as well as competitive table tennis at every level of the Liverpool & District Table Tennis League. And you will see from the reports below, that it hasn't been a bad year in competitive table tennis for the club either!
However, we can't be complacent, there is still work to do and some of us are not getting any younger! Nevertheless I am confident that there is a bright future for the Club and that working together we can continue to grow and provide the best mix of social and competitive table tennis for all of our members.
Once again I would like to thank you all for your support of our club over this last year and especially our officers who have willingly taken on the burden of administration so professionally. I hope to be able to continue to work with and for you in the future.
Fred Bainbridge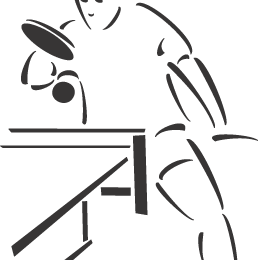 Secretary's Report
It is good to be able to report that 2014/15 has been a relatively quiet year on the administration front for the Club. It has been particularly helpful this last year to have the assistance of Dave Noden who has taken much of the responsibility in relation to 'fixture' matters in relation to the Liverpool & District League.
It is particularly encouraging that alongside our competitive table tennis within the L&DTTL we have been able to continue a vibrant brand of social and recreational table tennis at the heart of which has been the wellbeing of individuals. This last year the Club has supported individuals through illness and operations and also through grief. I am particularly grateful to Mary Delamere for the role she has played in this aspect of the Club, including attending a training event run by Sefton Borough Council to ensure that we all have an up to date perspective of the way in which the club can and should seek to ensure the wellbeing of its participants.
It is a fact that much of the success of the Club is due to the fantastic band of volunteers the club has, ranging from its committee members, its team captains, its tea makers and networkers. Were it not for the work & support of this great band of helpers the club simply wouldn't function. I am most grateful to everyone who has participated in any way in 'making it happen' this year at Marine.
The year started with an excellent end of previous season social with members and guests having a great evening of food and entertainment and dancing the night away to the sounds of Ricky Gleeson and the Silhouettes. The Ron Georgeson Memorial Trophy, a knockout handicap cup competition, was held over the summer with Ian McElwee wresting the trophy away from Colin Mitchell. A very good crowd were again present for the finals night on the 3rd September.
Eight teams were entered in the L&DTTL, with the B Team taking 2nd spot in Division 2 (a second successive promotion) and the E Team 2nd spot in Division 3, also a second successive promotion. We just missed out on automatic promotion in Div 4 and, importantly, did not end up propping up the League this year! In terms of league players we have been delighted to welcome back as a full time player Tony Kendall (in Div 1), and very pleased to welcome Julia Cornish to our Div 5 squad, which certainly seems to have made a big difference to President Clayton, especially in the doubles.
The Club entered teams in all of the Divisional Cup competitions of the L&DTTL, reaching the semi-finals in the Div 5, Div 4 and Div 2 events. The big surprise here was that it was BSM C who reached the semi-final in the Div 2 competition, not the higher ranked divisional runners-up. And what an effort they made just losing out 5:4 in one of the closest of all semi-finals.
Although the Club had no success in the respective Divisional Cups the story was quite different in the L&DTTL Frank Murphy Veterans Handicap Cup. For the second successive year, 2 Bath Street teams reached the final, and it was the same two teams as the previous year. This time however Ken Jackson's BSM 2 prevailed in another hard and close fought final before an appreciative capacity crowd. Congratulations to Ken, Ricky Brown & Darren Taylor on their success.
It is good that the uncertainty over our premises has ended following the flurry of activity and the SGM held last June when we thought we may have to find somewhere new. It was however slightly disappointing that our great Club was not quite bold enough to seize an opportunity to have significantly improved multi-table facilities which would also have been available 7 days a week.
The presence of our Club on the Internet has grown in the near 2 years of its existence. I am grateful to those who have provided material, pictures and comments to enable us to regularly update the site with new stories, which I hope you find of some interest! We haven't yet though moved onto Facebook and Twitter.
All that remains is for me to say a very sincere thank you to all members who have supported me over my 4 year tenure as Secretary and to wish the Club all the very best for the future.
Graham Turner
Treasurer's Report
A copy of the accounts for the year to 30 April 2015 as presented to the AGM is available from the Treasurer or Secretary. These showed a surplus for the year of £895. A very good result leaving the club with a balance of £2,190. This balance will enable us to invest in some needed repairs to the clubroom.
Ian McElwee
Social Secretary's Report
The Club did not have a formal 'Social Secretary' over the last year, however Colin Mitchell and Mary Delamere have effectively fulfilled that role, and each has provided information to form this brief report.
The social side of Bath Street Table Tennis Club continues to grow. Although it is based upon a certain age group, there is a genuine enthusiasm, for those who are able, to meet up on weekdays in order to play table tennis and have a good chin wag. It is worth noting, however, that Des and Albert do bring their grandchildren to the club during the school holidays, which is warmly welcomed.
Wednesday remains the focal point of the week for those who wish to play social TT. However, Mary has introduced a Tuesday group, which has also proved to be very popular.
Many of the social players really enjoy the opportunity to watch the league players in action, such as the final of the Veterans Tournament. It was a real eye opener to see just what is possible.
60, 65, 70, 75 and 80th birthdays continue to be celebrated with a party within the table tennis room during the daytime, whilst the club has also enjoyed an "end of season" function (with the next one on 5 June) as well as a Christmas party. During the close season, in the summer months, the club holds an internal handicap cup competition, whilst at the Christmas party in December 2014, a hard bat competition proved to be very popular.
It is the help provided by volunteers that ensures both the functioning and success of the social side of our club and the appointment of our own Welfare Officer has further enhanced the social face of our club. However, everyone is supportive and good fun making the Tuesday and Wednesday social sessions enjoyable and inclusive.
The great feature of our club is to see the balance between men and women, and we now include babies as well! For example when Dave Noden is able to make an appearance at the club daytime functions, little Pablo often appears with him as well as his partner Teresa, who is warmly welcomed. All love seeing "our youngest and most popular" member at the club. As a club, we wish Pablo well and want to see him at Marine as often as possible. Pablo is our youth policy.
Finally, Bath Street TTC would not be able to run such events, and be the club that it is, if it did not have the support of all of its members. So thank you one and all for your support. Long may it continue.
Pictures and reports on various social events and other activities can be found on the website via the link 'News Stories'.
Ron Georgeson Memorial Trophy
A Club Tournament was again held in 2014, introduced to the memory of former Club Secretary Ron Georgeson in 2013 it again proved to be a popular event. Held over the summer months with Finals Night just before the start of the new table tennis season it was a great event and the winners were:-
Ron Georgeson Memorial Trophy – Main Event
Winner: Ian McElwee Runner up: Dave Noden
Ron Georgeson Memorial Trophy (Plate) (a second chance for all 1st round losers)
Winner: Fred Bainbridge Runner up: Albert Parker
Liverpool & District Table Tennis League - 2014/15 Season
The Club entered 8 teams into the Liverpool & District Table Tennis League for the 2014/15 season, and 7 teams also took part in the respective Divisional trophies. In addition the Club entered 6 teams into the Frank Murphy Memorial Trophy (the Veterans Handicap Cup).
TEAM REPORTS
The 1st Team (Div 1)
Members: Ken Jackson (Cap't), Tony Kendall, Fred Bainbridge
Position in Div P W L GW GL Pts
8 22 5 12 88 132 88
It has been good to welcome back Tony Kendall as a full time member of the team. However despite having a more stable team the season has proved to be a real struggle. It has also been a slight disappointment to finish just behind the A Team for the first time. Injury to the team's talisman Ken Jackson in the final weeks of the season also meant that a few vital points slipped away. Ken has however remained a force to be reckoned with in 1st division circles and has been the major point's provider for the team, averaging 71% and standing 13th in the Division 1 averages. Sharing the same match night as the A Team has also led to the team having to call on lower ranked substitutes to cover absences but the team are grateful to those who have stepped up so willingly and gained valuable experience from their appearances. Although overall a slightly disappointing season, it has been an enjoyable one – and we have at least been able to share a pint… or two!
A Team (Div 1)
Members: Dave Roberts (Cap't), Clare Peers, Dermot Tierney
Position in Div P W L GW GL Pts
6 22 8 10 96 124 96
For the first time the A Team finished above the 1st Team. A large part of the credit for this must go to Clare who has performed magnificently this season winning 33 out of 52 sets played, an average of 63% and finishing 16th in the divisional averages. It is no surprise therefore that Clare remains the highest ranked lady player in the Liverpool League and the reigning Ladies Champion. With his usual economy of words, captain Dave Roberts said, "we finished in the top six, which is more than I expected"! Indeed, this was a very good achievement especially as the captain didn't exactly have his best season; just 45% average this year compared to nearly 52% last season. Dave did however manage to play all but 2 of the matches and this despite a number of injury worries. Dermot also picked up more games this year, finishing with a 30% average, which really helped to boost the team tally. Vital contributions made by strong substitutes, like Ricky Brown and Ian McElwee, meant that the team were able to pick up points in almost all matches. So all in all a very good season ensuring the team retain their place in the top flight.
B Team (Div 2)
Members: Barry Davis (Cap't), Ricky Brown, Ian McElwee
Position in Div P W L GW GL Pts
2 24 15 5 154 86 154
What an amazing season! Having finished runners-up to Maghull in Division 3 last season we certainly didn't expect to finish runners-up to them again this year, but in Division 2 instead. But that is exactly what has happened. We finished the season with a good 6-4 away win against Bootle YMCA, two each for Ian and Barry and one for Ricky. This was a reflection of the way the season has gone as a whole with all 3 players making contributions on most nights. The percentages reflect this; Ricky=70%, Ian=65% and Barry=63%. Although Ricky and Ian are seasoned campaigners who have played at this level before we did not expect to move straight through what is reckoned to be one of the toughest divisions to find ourselves heading for the top flight! Captain Barry says, "It is hard to believe that we have secured runners up spot and promotion to the 1st division. At the start of the season I didn't know what to expect but I certainly didn't expect this. I always like to see how we have fared in 5 setters. We were involved in 53 5-setters and won 32 of them, 60%. This demonstrates the will to win that exists within the team." Perhaps it is not such a surprise with experienced campaigners like Ricky and Ian, but it takes more than 2 players to contribute to average 6 points per match over the whole season. And it is the fact that all have contributed that has led to success. Barry goes on to say, "The lads have mixed feelings about next season but no doubt there will be discussions during the summer. On a personal note I would just like to say how supportive my team mates have been during the last two years. Sometimes it is advice at a vital time during the game and sometimes a discussion over a well-earned pint. Their support and encouragement is tremendous. The last two years have been a great experience." The team has also appreciated the efforts of those who have been called on to play as substitute especially young Sam Pierce who made some valuable and important contributions. Barry says, "It is great to see a youngsters improvement and I hope it continues." We would all agree with that. Congratulations on a tremendous season.
C Team (Div 2)
Members: Dave Stoddern (Cap't), Colin Mitchell, Rob Peat
Position in Div P W L GW GL Pts
12 24 2 19 73 167 73
It's been a tough year! The fixtures were not very kind to us playing, what turned out to be, the top 3 teams in the first few weeks and from that moment we were always playing catch up. By half way we were plum bottom but a spirited 2nd half of the season saw us overhaul Harold House A and finish off the bottom. Dave Stoddern in his first season as team captain said, "I think it was definitely a case of so near yet so far judging by the vast number of 5 setters we failed to turn into wins. Apart from the lows, we did have some great highs including a semi-final appearance in the divisional cup which we narrowly lost 5-4." Rob Peat proved to be a genuine No.1 and had a great season, consistently picking up points each week with some great performances. Colin Mitchell & Dave Stoddern never gave up and also picked up some good wins, and on the few occasions where the team all clicked at the same time, we actually picked up a win or two, notably against Bootle YM; what a joy to play such a sporting team in Messrs Chase, Birch & Higham, it makes it all worthwhile. Dave goes on to say, "If I could pick out 1 individual performance for each, it would be Rob's win against Phil Luxon (Wavertree Labour A) after being 2-0 down and a superb game to watch; Colin's win against Dave Harse (Wavertree Labour A) (a very difficult and dogged opponent) and Dave's win over Alan Chase (Bootle YMCA). Thanks to Rob & Colin for your great support all season". The team also acknowledge the help and support of substitutes like Ted Cramsie, Brian Crolley, Sam Pierce and Keith Dudley standing in on the occasions where we didn't have a full team. Although it has been a disappointing season, our great team spirit never wavered which in the end made the season worthwhile in what is a tough division to play in.
D Team (Div 3)
Members: Brian Crolley (Cap't), Andy Cheung, Mal Kent.
Position in Div P W L GW GL Pts
7 24 10 11 120 120 120
This has been our team now for several seasons; and having a settled team well known to each other has meant that we have been able to hold our own with every team in the division, including the outright divisional winners, East Wavertree. However there is always an exception, and this season it has been our clubmates of the E team. We still can't believe that they managed to take 19 out of 20 points from us over the two matches, and the 1 point we did get was a 12:10 in the fifth win! At least they are out of the way now having got promoted! Andy has been our star player all season (average 60%) and we really missed him when he went on his extended Hong Kong holiday in February. However we have been able to call on the services of some strong reserves to help us through those difficult weeks, including Sam Pierce, Ned Hassan, Graham Turner and Graham Oates. But perhaps special mention should be made of players from the 5th division team that have stepped in at last moments; Billy Clayton picking up a valuable win at the start of the season, and an unbelievable victory for Julia Cornish over Steve Gittins of Merseyside Police; and Keith Dudley called on at the eleventh hour to support the team against the Police. Thanks to them all. As ever Mal, with his 'flashing back hand', has put the frighteners on many of our opponents and has been such a good support, more like a personal valet and chauffeur really as well as being an excellent player. Captain Brian says, "as for myself, well I win a few, I don't think I can add to that, except the opponents usually like my biscuits"! Brian continues saying "we will finish a very comfortable mid table and we are already looking forward to next season – looking to improve". What more would you expect from such a brilliant and positive team captain.
E Team (Div 3)
Members: Ted Cramsie (Cap't), Sam Pierce, Graham Turner
Position in Div P W L GW GL Pts
2 24 15 6 159 81 159
With the E Team securing back to back promotions this has been another great year for Ted, Sam and Graham. After a disappointing opener away to title favourites Marconi B, looking for an immediate return to Division 2, the Team then went on a rampage winning 7 of their next 9 matches. Surprisingly the 2 defeats were to teams in the bottom half of the division, Bootle YMCA A and Linacre. Perhaps it was the absence of Graham for both matches, or the poor playing conditions at one of the venues? During the season the derby between the two Bath St teams was fiercely contested and each time the final result perhaps flattered the E Team - a 10-0 whitewash and a 9-1 victory! It was however wins like this which inevitably helped secure promotion for new captain Ted and his team. The E team took an impressive 41 points out of a possible 50 in the final run-in including a very good draw away to East Wavertree, who by that time were already divisional champions. In the last game of the season, away to Maghull, the team needed 4 points to secure promotion ahead of rivals Marconi B. The match score was 3-1 when young Sam Pierce stepped up to put away Matt Craney in straight sets, giving the E Team back to back promotions. Sam's overall average for the season of 75% (7th in the divisional averages) showed something of the continued improvement he has made through the season and the importance of his contribution to the team. Perhaps the highlight of the final match was Ted destroying the Maghull No.3 in straight sets, to which Sam commented "why didn't you play like that all season? We would have walked the ……. division!? In fact it was the team's ability for all 3 players to contribute (with Ted finishing on an average of 53% and Graham on 66%) together with some superb doubles performances – the teams record in doubles for the season was second to none – that just gave the team the edge over their rivals in a generally tough division with every team having at least 1 very good player. Also having the ability to call on some extremely strong substitutes such as Julien Quirk, Darren & Josh Taylor, Ned Hassan and Micky White may have helped a little!! If it is possible to sign Julien as a full time member of the team for next season, then hopefully the team can also hold their own in that toughest of all divisions.
Ted, Sam & Graham - BSM E
F Team (Div 4)
Members: Dave Noden Cap't), Darren Taylor, Ned Hassan, Josh Taylor, Michael White
Position in Div P W L GW GL Pts
3 24 19 3 168 72 168
Having ended the previous season strongly with the inclusion of Mickey White, hopes for this year were further enhanced by the inclusion of Darren's son, Josh in the line-up. This hope had some foundation with a perfect start winning the opening game of the season 10-0 against Arriva NW A. Despite not having Darren or Josh available for the next game, which proved to be the only game both Father and Son would miss, we found ourselves top of the table after five games, although this was tempered by the fact that we had played the bottom four sides as the table then stood. Privately, after the fourth game we predicted jointly that we could finish in the top three. Promotion or winning the division was a priority for the team, as the chance to play in the 3rd division was where the team thought they should be. Going into November, top of the table but having played a game more than our rivals, we faced the toughest test so far, at home to East Wavertree A. Arguably a stronger East Wavertree side than the one that strolled to the 4th Division title last season as their 1st team! Yet again East Wavertree were to prove to be our nemesis, a 3-7 reverse and the unbeaten run ends! In the meantime St Anne's moved into the driving seat, but an 8-2 trouncing of Maghull C and a tough 6-4 home win against St Anne's followed to close the gap on the latter who remained top of the table despite their first loss of the season. A defeat inflicted thanks to 'hat tricks' and joint man of the match performances from Darren and Mickey. Already looking like the most interesting division in the league, there was very little separating the top five with St Anne's top, followed by BSM F, East Wavertree A , Sefton Park A and Merseyside Police D. Cadwa were also nicely placed in sixth and more than capable of taking points from the top sides to improve their position. Already looking like the most interesting division in the league, there was very little separating the top five with St Anne's top, followed by BSM F, East Wavertree A , Sefton Park A and Merseyside Police D. Cadwa were also nicely placed in sixth and more than capable of taking points from the top sides to improve their position. For the 3rd season running we were drawn against our 'old rivals' East Wavertree in the divisional cup, this time in the semi-final, and again with a similar outcome with East Wavertree victorious and going on to win the cup against St Anne's in the final. After a five week break thanks to Christmas and a free fixture we greeted the 'New Year' with a 10-0 win over QVC closing the gap on St Anne's. By the end of March we were within 'touching distance' but had 3 of the top 4 sides to play, and had to face two of those matches without Mickey, who up to then had hardly put a foot wrong (final average 88%). This proved disastrous and destined the team to finish third. We will now have to wait and see if on reconstruction of the divisions the team can get a move up to the higher division.
G Team (Div 5)
Members: Des Logan (Cap't), Tom Bell, Billy Clayton, Keith Dudley, Julia Cornish, Cyril Penny, Barbara Alcock, Mary Delamere, Liz Adams, Don Gibson,
Position in Div P W L GW GL Pts
8 24 9 13 113 127 113
With his usual understatement, captain Des says "a much better year"! It certainly was. With both Billy and Albert coming into the squad and the addition of newcomer Julia Cornish – who proved to be an excellent addition – the squad looked considerably stronger than last season and this proved to be the case with the team picking up points in virtually every match. The difficulty always faced with such a large squad was who to play, and who to leave out and how to ensure that those who did want to play regularly got regular matches! Generally the "A" team was Keith, Bill, Albert and Julia with back up players Des and Tom and Liz, Mary and Don as reserves. A finish of 8th out of 13 against bottom last year was a major achievement; division 5 remains a strong division with all of the teams having at least 1 or 2 very good players. Keith and Tom continued to improve and the addition of Julia proved an excellent bonus, it certainly seemed to help Billy in the doubles. Both Billy and Albert were always consistent high performers and Liz & Mary each picked up the odd point when called upon to play. Generally considered an enjoyable season with many close matches.
Who is who?
A blast from the recent past! Can you name this Blue Jacket Umpire and say what association he had to Bath St TTC?
See if you can answer these ?????????
Who are the two Club members who became Team Captains for the first time in 2014/15? ………………………….
Which BSM teams will be playing table tennis in a different division next year? ………………………….
Who or what helped President Billy Clayton in the doubles this season? ………………………….
Who is the Liverpool League Ladies Champion? …………………………..
What was unique about the Frank Murphy Memorial Trophy Final this year? ………………………
Who does Ricky Gleeson play for? ……………………………………..
A Full report on the 2014 BSM Tournament can be found from News Stories.