Chairman's Introduction
My first year in the role of chairman has certainly been busy for both myself and the club committee. Each committee member has been allocated a role with a view to enhancing the smooth running of the club. There have been regular committee meetings to ensure that each of us is up to date on all aspects of club life and that we maintain control of all relevant issues. All minutes have been displayed on the notice board for the benefit, interest and, if necessary, feedback of members. This is intended to allow each member the opportunity to feel involved in club matters.
​
I have great regard for each of the officers of the club who have displayed great enthusiasm and thought in bringing relevant tasks to fruition to ensure the club runs smoothly. Additionally, I am fully aware that within our social structure various members provide full support towards day to day social play and provide support in organising and attending the various fundraising functions that have taken place in recent months.
​
I have been a member of this club for nearly 40 years and there is no doubt in my mind that every aspect of the management of the club has improved drastically in recent years. Hopefully, with your commitment and enthusiasm our club will continue to grow further.
​
Finally, I should mention the work relating to our prospective new premises. Graham, with the support of the committee, has put in many hours of work in formulating a funding bid to Sports England. We are currently awaiting the results of the bid but, if successful, we have an extremely challenging year ahead. With the continued support of all our members I am sure that all future challenges will be successfully overcome.
​
Below you will find various reports and information about the club and our teams in the local league. We would welcome any relevant feedback.
​
Ian McElwee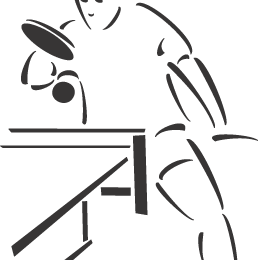 Secretary's Report
It is always difficult to know where to start in presenting a report to the AGM of the preceding year.
It is, however, worth saying that the year will finish very much as it began with a great social night for the whole club! Our end of season social is on 1 June, it will feature good food, the music of the Silhouettes, and great company. The event being organised by our newly appointed social organiser Keith Hardman, with his band of very willing helpers. Tickets priced at just £10 – excellent value for money!
Social events have very much been part and parcel of our calendar over the last year as members got behind the various initiatives to raise funds towards our new building. So much so, that we have been able to increase our property fund from £2,000 to £5,000 at the year end as the accounts to be presented will show. This is a tremendous effort by all concerned. Well done and thank you!
The Club once again entered 8 teams in the L&DTTL and managed 4 teams in the Liverpool Junior League (JDD). In fact, working with Crosby High TTC, the club was jointly responsible for 15 out of 20 teams that took part in JDD in the 2017/18 season. Two of our juniors, Finn Mason & Hugh Frediani-Bellis finishing second in the top division of JDD and the team of Anfield Boys managed by the club finished top and also reached the final of the JDD Handicap Cup, ending as runners-up. Euan Mason, one of our most improved juniors, also won the JDD Singles tournament.
On the L&DTTL front we had teams in every division. Our A Team of Barry Davis, Matt Wilson & Colin Turner won Div 2 and will advance to the top division next season. Full reports on all our teams will appear in the Club Newsletter, to be published online shortly after the AGM. Special mention must however be made of our F Team, who ended up supporting the whole League! Even though they only accumulated 15 points, compared to the 151 of the top team in that division, all season out of a possible 200, they remained cheerful, and fought for every point right to the end of the season and generally were a credit to the club and themselves. Their sportsmanship and hospitality drawing a number of excellent comments from rivals. Next year…..!!
All our teams also played in the respective Divisional Cups, but it was only Dave Noden's C Team in Div 3 that reached the semi-final stage, before bowing out to the eventual winners.
There was however more success in the Frank Murphy Veterans Handicap Cup in which we entered 6 teams. For the 3rd time in 5 seasons 2 BSM teams reached the Final. A report on that event can be found on our website. The trophy was won by BSM 3, captained by Andrew Armstrong – in his first season as a BSM captain – with the very strong line-up of Keith Williams, Ian McElwee & himself.Congratulations!
Over the past year the Club Management Committee has met together 7 times, and we also held a SGM. In a break with tradition the Club now publishes in full the Minutes of its AGM, SGM and Man Com meetings. Under the present Chairman there has been a positive direction for the Club bringing together every aspect of club life. As a result the club has continued to flourish and grow.
We have published 15 News Stories on our website, which has attracted more than 1700 views this last year, and made 13 entries on the Club blog. There have also been 54 posts to the club's Facebook page which have attracted interest from far and wide, with the most successful post attracting more than 600 views.
The social side of our club has continued to grow and thrive and around 50% of our members enjoy social and recreational table tennis only at the club. If you need more information about our social side then do please ask questions of our newly appointed social secretary, Keith Hardman.
Members safety is a matter that is of paramount importance to our club, and it is significant that in the last year we have experienced at first hand two serious medical incidents. In both instances the response of members has been exemplary. Over the year we have engaged in emergency first aid training concerned with proper and safe handling of defibrillator equipment which is now installed onsite. Many of our members attended that training. We have also appointed a Health & Safety Officer, in the form of Keith Hardman, who joins our existing Welfare Officer, Mary Delamere. Together they are doing their utmost to ensure that those coming to our club are welcomed and cared for and that their safety is ensured whilst they are here.
For the first time last year our club tournament was held in the luxury of Anfield Sports & Community Centre with play on 10 tables. It was at time chaotic but nevertheless a great day of table tennis. This was followed by a very successful Finals Night at the clubroom, with club newcomer Colin Turner taking the singles title at the first time of asking.
This last year has been dominated by the club's search for a new home when the present building is demolished. Fortunately the scheduled demolition has been put back a year, and will not now take place until 2019, but a new home is essential if the club is to continue in its present form. As most of you will know, Marine AFC would like to keep us on their site, and have offered space for us to place a 'portable' home. We are now actively working with Sport England to see if we can raise the approximate £75,000 needed to make this dream a reality. Our funding bid is to go before the decision-making panel, and to assist that we have provided all information requested, and we are being strongly supported by Sefton Borough Council. This together with a bout of ill health has somewhat pre-occupied your Club Secretary this past year, and here I would like to record my thanks to Dave Noden for his tremendous assistance this past season with managing our league teams and fixtures; and also to the team captains who have by and large managed their respective squads extremely well.
I would have liked to be able to give you good news about the club property. But at the moment it is simply a waiting game! Hopefully we will not have to move to Plan B………, our first and foremost aim remains to establish a new permanent club home on this present site, and for that home to have its own new kitchen and toilets and be capable to allowing more tables to be in use for social and recreational play, as well as being open to members 7 days a week, 24 hours a day.
I would like to thank all members for their help and support over this past year, and especially for getting behind this property project. Raising as much money as we can, and as quickly as we can remains the main need of our club at this moment.
Overall it has been a good year for our club both on and off the table, and the forthcoming National Table Tennis Day in July provides another opportunity to showcase every facet of what we have to offer in the future. And especially so if we can secure a new home. That has to be our highest priority.
If we can secure a new permanent home then I believe there is also the prospect of a very bright future for this club because we have a very good product, and some very good people.
All that remains is for me to wish the club and all of its members the very best for the future, and to thank you all for your support over the 7 years that I have had the pleasure of being your Secretary.
Graham Turner
Treasurer's Report
A copy of the accounts for the year to 30 April 2018 as presented to and approved by the AGM is available from the Treasurer or Secretary. These showed a profit for the year of £3,787. Overall a very satisfactory financial result which has enabled us to increase our property fund to £5,000 towards the likely redevelopment of our table tennis room in the summer of 2018.
​
Ian Brownrigg
Social Secretary's Report
A report of the social side of the Club is included within the Secretary's general report above.
​
Ron Georgeson Memorial Trophy
The 2016/17 Club Tournament was held in September 2017, for the first time at Anfield Sports & Community Centre. It was a great day with the Finals being held at Marine in the following week. The winners were:
Ron Georgeson Trophy:
Winner: Colin Turner
Runner-Up: Les Dodd
Singles Plate:
Winner: Keith Dudley
Runner-Up: Steve McCormick
Fun Doubles
Winners: Keith Dudley & Steve McCormick
Runners-Up: Colin Turner & Mary Sefton
Liverpool & District Table Tennis League - 2017/18 Season
The Club entered 8 teams into the Liverpool & District Table Tennis League for the 2017/18 season, and all also took part in the respective Divisional trophies. In addition the Club entered 6 teams into the Frank Murphy Memorial Trophy (the Veterans Handicap Cup).
TEAM REPORTS
1st Team (Div 1)
Members: Dave Roberts (Cap't), Clare Peers, Dermot Tierney & Keith Williams
​
Position in Div P W L GW GL Pts
9 22 6 14 88 132 88
​
The 1st team again battled it out in the top division. The team mainly consisted of regular players Dave Roberts, Clare Peers, Keith Williams and Dermot Tierney, finishing 9th out of 12 teams. Overall performance was not as consistent as other seasons, the team not helped by the many gaps between matches and injuries within the team at various times throughout the season. The standard of the division seemed to have improved with new quality players like Richie Venner, Pawel Orzechowski and Jake Shaw strengthening opponents and some young players developing into top quality players within the league. Dave and Clare had somewhat similar seasons, both picked up injuries and both were not able to compete in as many matches as they would normally. Consistent play helps to keep confidence and consistency on the table and both players suffered slightly from their stop start season. In saying that Clare still very much held her own in the division winning around 50% of matches; and on form is competitive against anybody in the division. Notable performances were a win away to young Rhys Davies (England No. 4 U13) and 3 wins away to Harold House. Dave Roberts, the team captain, similarly suffered a drop in form compared to other seasons. Dave still produced many great performances, most notably 3 wins against a strong Police team of Joe Mullin, Paul Gittins and John Dyson and a win against Jake Shaw (Trafford League Champion). We also need to thank Dave for the lifts to matches, arranging replacement players and providing some nice cakes throughout the season.
This season the team was boosted by the addition of star player, Keith Williams. Keith only lost 4 matches all season but maybe was a little disappointed in himself to have lost these matches to Richie Venner, J. Chappell, Paul Gittins in 5 and Thomas Haddley. But in the return match against Paul, Keith took nothing for granted and won comfortably. Keith in top flight is a wizard on the table and a joy to watch with his consistent top-spins from both wings. Dermot Tierney had a similar season to other seasons winning nearly one out of every three matches. Probably the most notable performance was wining 5 from 6 games over two consecutive days due to a rearranged match and good wins over Paul Gittins and Joe Mullin. Thanks also to all the players who subbed in during the season and club members who came to watch and support the team throughout the season.
​
A Team (Div 2)
Members: Barry Davis (Cap't), Matthew Wilson, and Colin Turner
Position in Div P W L GW GL Pts
1 22 18 4 164 56 164
The season started in complete uncertainty when, days before the start, Dave Stoddern who has been a regular and team captain in division 2 for some time, advised that he would be unable to play in the first half of the season! Added to this the prospective No.1 Matt Wilson was also unavailable for a couple of early games. But, as is so often the case, as one door closes another seems to open, and out of the blue arrived Colin Turner. A little rusty, but after some introductory play at lower level Colin took the step up to join Matt & Barry. And what a signing this proved to be! The new look team then went from strength to strength in what has always been a highly competitive division, in which, it sometimes seems, no-one wants to win as it would mean promotion to the top flight! But with some excellent team play the team took the bull by the horns and went for it. Moving from uncertainty to a very positive clear top spot in the division. All 3 players contributed to the success with Matt finishing on an average of 90%, Colin on 75% and Barry on 62%. Some useful contributions from reserves also backed up the cause. This was a great achievement from a newly formed team and we shall look forward to what next season brings.
​B Team (Div 2)
Members: Brian Crolley (Cap't), Andy Cheung and Mal Kent
Position in Div P W L GW GL Pts
12 22 1 20 44 176 44
​
What can you say about the B Team? Well there are at least two things. First, this is certainly one of the best managed teams in the club, if not the best! It is a very settled, highly experienced, and consistent team. Second, they probably have the best 'away' strip in the club! Totally unexpectedly, the team found themselves 'promoted' to division 2. To say this was somewhat harsh on a team that only finished mid-table in division 3 last season would be a bit of an understatement. But the team readily accepted their plight and set about making the most of it, competing in every match. Another certainty is that they were not going to make any match easy for their opponents and fought for every possible point. Although at times overwhelmed the team enjoyed every match and as always proved good and popular hosts to visitors to Marine. In the end however, the step up proved a step too far and the team should resume their place in division 3 next season where they will equally give of their very best.
Above 1st Team regulars Dermot Tierney, Dave Roberts and Clare Peers who were joined by Keith Williams (below) for this season. It should have strengthened the team but injuries to Clare and Dave meant the team were too often not able to field their strongest side for key matches. In one of the last matches of the season against Crosby High A, Dermot put in a brilliant performance winning all 3 singles in style and taking the doubles but he was the only real 1st division player on show for either team on the night! Keith is shown below, on the left, with Andrew Armstrong (E Team), both featured in the BSM team that won the Veterans Handicap Cup
Above, the A team of new boy Colin Turner, Matt Wilson - a very consistent No.1 and captain Barry Davis. Once the team had become settled it went on to give a storming performance to take the Div 2 crown.
The smartest team in town? The B Team sporting their very fashionable 'away' strip - which it seems they wore more than their 'home' kit! From the left, Mal Kent, Andy Cheung and captain Brian Crolley.
C Team (Div 3)
Members: Dave Noden (Cap't), Darren Taylor and Ted Cramsie.
Position in Div P W L GW GL Pts
4 22 13 5 126 94 126
​
The opening game of the season was always going to be a stern test against a Maghull side strongly fancied to be a top side in the division. This was made all the more difficult with Darren and Ted not available. And so it proved, a 1-9 drubbing, and a realisation, although early days, that an improvement on last season's 5th place finish was going to be a 'big ask'. We knew that Darren's availability was going to be restricted due to fixture clashes with his 'home' team in the Southport League, Waddington. In fact, he only played twice in the first 7 games, in which the team won only 1 of these games against the lowly Linacre. Something we hope to address next season by looking more closely at our home night! Despite this setback there were some creditable performances in the early part of the season. The high flying BSM D team just edging us with a 6-4 victory, Dave gaining a surprise but deserved hat trick which he repeated against table toppers and runaway leaders Wavertree Labour C. This was one of the best performances of the season as it turned out holding out for a draw. An amazing 9 match points slipped away in this match which could have turned the result into an 8-2 win against the eventual divisional winners. All the more creditable without the talismanic Darren.

Better results followed, Darren playing 5 out of the next 6 aiding the recovery and league position to 5th at the half way stage.

The New Year looked more like the beginning of the season with the team mostly 'Darrenless', playing only 2 of the next 6 games. But with a great improvement in the corresponding results; beating BSM D (without Ian Mc and Ula) 9-1, Arriva 8-2 and Linacre 8-2. With hat tricks in at least a couple of these matches for Ted, Darren, and Dave. One of the strangest matches was against Merseyside Police C. Just before this game Dave had praised Darren for his form and consistency, he'd not seen him playing better! What a jinx that proved to be! For the first time in 5 years Daren lost all 3 sets played! All the more surprising as Dave and Ted won all theirs to seal a 7-3 win!

The rest of the season saw improved availability of Darren and with it improved results; a 12 point improvement on the first half of the season. The team going on to secure 4th position in a very competitive division. Finishing 4th, getting to the semi-final of the divisional cup, and the final of the Vets Cup, not a bad return! Well done to Darren, Ted and able deputies Ray, Ned, Les, Graham, Peter, Andrew, and Euan.
​
​D Team (Div 3)
Members: Ian McElwee, Les Dodd, Urszula Kuczek, Ray Hibbs and David Stoddern
Position in Div P W L GW GL Pts
3 22 14 5 142 78 142
Captain Ian McElwee reports that "during the first half of the season we had a settled team consisting of myself, Les Dodd and Ula Kuczek. Although both Les and Ula were new to division 3 they settled well and were a match for many of the regulars in that division, we were normally around 2nd in the divisional table. A work change meant that Ula was not available during the 2nd half of the season, and when a perverse decision of the League resulted in Fred Bainbridge being unable to make a come-back and join our team as a temporary substitute to cover the gap, it looked like we might slip down the division. However, Ray Hibbs, Keith Dudley and Euan Mason stepped up to help fill the gap until we acquired Dave Stoddern on his return to match play for the final 5 matches. Without a settled team for the first part of the second half of the season it proved impossible to stay in the top 2 positions, but we soldiered on finishing with a very respectable 142 points (an average of 6.7 per match) for the season and in 3rd place." What a great effort by a team where the majority of the players were new to the division.
​
E Team (Div 4)
Members: Keith Dudley (Cap't), Andrew Armstrong (Acting Captain), Peter Ashley,
Tony Bramham, Sam Pierce, Ned Hassan and Graham Turner.
Position in Div P W L GW GL Pts
7 22 7 8 107 113 107
What a funny season! Last season the old E Team finished top of division 4 and were effectively promoted. For various reasons 3 of the members of that team ended up not advancing to the higher division, so on paper the new E Team looked reasonable! But without a ball being played Graham was side-lined and couldn't play until the second half of the season and then Keith, the captain, had to take time out to care for Mary, who sadly passed away at the end of November. Andrew stepped up to take over the captaincy – making the E Team the only club team to have two captains in one season! At last things started to stabilize and the second half of the season saw the team start to pick up points with an unbeaten run of 7 matches. But in truth the players were not able to repeat the form of the previous year and at times were unable to field their strongest side with Sam only playing a few matches. So, although everyone contributed, we had to settle for a mid-table place. Looking forward to seeing you all next season!
​
F Team (Div 5)
​
Members: Keith Hardman (Captain), Stuart Reid, Tony Rimmer, Mark Benson, Ian Brownrigg, Bernard Cooney, Lesley Blanchard, Jenny Givens, and Herve Gillet
​
Position in Div P W L GW GL Pts
11 20 0 20 15 185 15
​
Captain Keith Hardman says, "Well where do I begin? First of all, what a brilliant group of players, all committed to play table tennis this season for our club. A new team and a new captain. In my honest opinion everyone who was selected whether it be No1 or No5 deserves to be player of the season! The biggest compliment I could pay them is that every team we played against enjoyed playing against us and commented on our team spirit. We played 10 different players the season and played a No.5 in most matches, who played the two doubles, to give them match experience. Although we never won a match all season our spirits were kept high knowing that each and everyone of us finished the season strong. Well done! Bring on next season (if I am not sacked)!" The truth is that it is not easy, even at the lowest level, to bring a completely new team mostly with people who are new to table tennis into the league for the first time, especially one as strong as Liverpool. And it didn't help when No.1 Stuart decided to move to Jersey with work after just a few weeks of the season. But the team can only improve and hopefully will have learned from their experience; that together with the practice and coaching they are undertaking should start to show results next season. Watch this space....
​
G Team (Div 5)
​
Members: Des Logan (Cap't), Barbara Alcock, Billy Clayton, Liz Adams, Tom Bell, Mary Delamere, Steve McCormick, Euan Mason, Finn Mason & Hugh Frediani-Bellis
​
Position in Div P W L GW GL Pts
10 20 3 16 66 134 66
​
It has been quite a difficult season for the G Team, trying to balance the availability of the older regular players, with the need to give game time to new emerging junior players for whom away matches lasting until late in the evening was effectively a 'no-go' area. It also seemed as if almost every team in division 5 had become stronger! Team captains Des says, "I didn't always get it right, but we did need to look to the future and try to give juniors an opportunity where possible. The team did however compete well throughout the season and showed excellent hospitality to visitors to Marine. We also picked up odd games in almost every match, and towards the end of the season even though playing at No.1, young Euan, aged 14, started to pick up both singles, an excellent achievement." Indeed, once the junior division had ended Euan started to feature more regularly in the division 5 line-up, was re-ranked to the team No.1 and put in some very good performances against strong and experienced opponents. Another new player to feature was the 'young' Steve McCormick (aged 64). Despite being in his first season, he also put in some very good performances and will hopefully be able to build on that next year. Overall an enjoyable, but tough, season.
​
JDD (Div 1)
Crosby High Anfield A
Crosby High Marine A
Crosby High Marine B
​
Members: Anfield A: James O'Dwyer & Dominic Birkbeck
Members: Marine A: Euan Mason, & Matthew Brennan
Members: Marine B: Finn Mason & Hugh Frediani-Bellis
​
Position in Div P W L GW GL Pts
Anfield A - 1 9 7 2 109 53 109
Marine B - 2 9 8 1 109 56 109
Marine A - 3 9 6 2 104 64 104
​
Once again the Club partnered with Crosby High TTC for participation in the Junior Development Division of the L&DTTL. The division was again played at a single venue with all teams playing on the same evening. But this season the shorter 2-aside format was used allowing the match of 5 sets to be played on a single table. This allowed more teams to take part and for the first time the two divisions were split broadly on ability rather than age.It resulted in some really even competitive matches in both divisions and with all teams gaining points as every game won counted. 20 teams were formed for the two divisions, 10 in each, and the Club was directly responsible for 5 and in partnership with Crosby High effectively managed 15 out of the 20 teams. In the top division the first 3 places went to teams directly managed by the club, with the boys from Anfield, playing their first season of competitive table tennis, ending up on top by the narrowest of margins as the table above shows. It was a brilliant achievement by James and Dom who also reached the final of the JDD Handicap Cup where they lost out to the boys from Crosby High E by 14points in an excellent match of very good quality table tennis. Finn and Hugh so nearly matched James & Dom finishing with the same number of points for, but a greater number against to take 2nd place in the division. The season started with uncertainty for the Marine A Team with the expected partner for Euan not materializing, then Euan was missing for 2 weeks with a school trip. Matthew was brought in from division 2 to partner Euan and gradually they built up, finishing in a very creditable 3rd place in the division. Euan also went on to win the JDD singles and, with his partner Jack Savage of Crosby High, the JDD Doubles at the end of season JDD Tournament demonstrating that he was one of the best players in the JDD. A very good performance by all 3 teams.
​
JDD (Div 2)
Crosby High Anfield B
Crosby High J
​
Members: Anfield B: Joel Richardson & Shea McLoughlin
Members: CH J: Archie Mason, Carter Benbow & Cohen Clarke
​
Position in Div P W L GW GL Pts
Anfield B - 4 9 5 4 86 69 86
CH J - 9 9 3 6 58 104 58
​​
These two teams, managed by the Club, featured boys from Marine and Anfield, all of whom were playing competitive table tennis for the first time, and all aged between 9-12, Archie being the youngest at 9. This division, mostly featuring table tennis beginners, was fiercely competitive with some excellent matches and very well supported by parents, doing all they could to encourage these new players. And it included a good mix of both boys and girls playing on equal terms. The Anfield B team got off to a very good start, mostly due to the fact that Matthew Brennan played in the first 3 matches before being 'promoted' to join Euan in Div 1. Shea came in to partner Joel and together they formed a handy partnership with Shea recording a 70% average from his 5 matches. Young Archie managed to pick up an average of just under 50% from his 7 matches, a very good achievement. In the handicap cup competition, friends Carter and Joel played together and Archie paired with Cohen, with Archie and Cohen just missing out on a place in the semi-finals by the narrowest margin - 3 points I seem to recall. both teams showed an excellent team spirit and a very good standard of play for outright beginners. A brilliant achievement.
Turned out smartly in their club kit the old faithfuls of the C Team, Darren Taylor, Captain Dave Noden and Ted Cramsie. Not only did Dave lead the team to 4th in the Division, but also to the semi-final of the Divisional Cup and the Final of the Veterans Handicap Cup. Dave also gets the prize for best reporter of the year! he always provides a few useful comments on each week's league match, and a great end of year report! And below the Team with Marjorie Murphy and L&DTTL Secretary Tom Purcell receiving the runners-up award in the Vets Cup
Above the D Team as it started out, Captain Ian McElwee, Ula Kuczek and Les Dodd. Sadly Ula was not able to complete the season being replaced by Ray Hibbs and David Stoddern. The team just missing out on 2nd spot.
This must be the worst picture of the season! Some of the members of the E Team, Keith Dudley, Andrew Armstrong - both captains of the team, Peter Ashley and Graham Turner. The team really struggled for form and consistency this season. But Andrew did lead a tremendous campaign on the Veterans Cup taking the trophy from Keith Dudley along with his team mates Ian McElwee and Keith Williams.
Just a few of the F Team members, Mark Benson, Jenny Givens, Tony Rimmer, Bernard Cooney and captain Keith Hardman. You can see that Jenny is an aspiring international player, playing with her gloves on! For a first season and with players with little or no previous match play experience the team put in a fantastic effort and were exceptionally well managed. And below, more or less the whole of the F Team!
Just some of the many faces of the G Team squad, including; Tom Bell, Barbara Alcock, Mary Delamere, Des Logan and Steve McCormick. With both F & G Teams, they certainly all looked the part usually smartly turned out in their club kit.
In the 3 pictures above, CH Anfield A - James O'Dwyer & Dominic Birkbeck; CH Marine B - Finn Mason & Hugh Frediani-Bellis; CH Marine A - Matthew Brennan & Euan Mason.

And below, Matthew with Joel Richardson, the original Anfield B Team
Who is who?
And to finish with here is a mini picture quiz for you!
​
See if you can answer these ???
​
Which two players, unusually, captained the same team during the 2017/18 LDTTL table tennis season?
​
………………………….
​
​
​
​
​
​
​
Which trophy did the Club win for an unprecedented 5th time in the last 7 seasons, with 2 BSM teams being in the final for the 3rd time in 5 seasons?
………………………….
​
And last ?
​
Which 2 Junior Members won the U13 JDD last season and this season finished runners-up in the JDD top division, equal on points with the top team?
​
………………………….
​