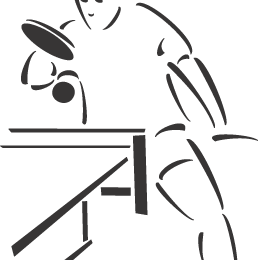 Chairman's Introduction
Welcome to the very first edition of BSMTTC News. It is 3 years now since I took on the role of Chairman of this great Club, and I think it is fair to say this has been a time of transition and change. But it has also been a time during which the finest traditions of our club and of table tennis have been maintained. We have continued to enjoy the unprecedented privilege of having a venue open for table tennis 7 days a week. We have been able to continue to maintain a strong presence in the Liverpool & District Table Tennis League and at the same time have seen a tremendous growth in social and recreational table tennis, especially amongst our 'daytime' members. We launched last year a new club tournament in memory of our former long serving Secretary Ron Georgeson, and renamed our premises in honour of our former Chairman Peter Ross. It has been particularly good to see the reintroduction of social activities and attendance at our last end of season social has proved the popularity and quality of these social events. And we are now on the Internet! The future holds new challenges for us, but I am confident that with the high quality management team the club now has in place we will be able to meet these challenges head on, and grow even stronger through them. Thank you all for your support of our club over this last year and especially to our officers who have willingly taken on the burden of administration so professionally. I look forward to being able to continue to work with and for you in the future.
Fred Bainbridge
Secretary's Report
For certain, it's been an interesting season!
Not only have we had the ongoing uncertainty over premises but we have also had to face a very challenging year in terms of our relationship with the Liverpool & District Table Tennis League. But the good news is that despite the difficulties the Club has been able to continue to provide opportunities for table tennis 7 days a week, has seen continuing growth in its daytime activities, has for the first time for a while had 2 junior members, and has been able to maintain a strong presence in competitive table tennis within the L&DTTL with teams competing at every level. More detail about each team can be found below.
The year started with an end of previous season social with around 70 members and guests having a great evening of food, music, line dancing, Irish bingo and raffle. A very good night. Following hot on the heels of this was the inauguration of the Ron Georgeson Memorial Trophy, a knockout handicap cup competition for all members with one of our newer members Colin Mitchell becoming the first holder of the shield. It was great to see over 30 members present on finals night. Eight teams were entered in the L&DTTL, with the D Team taking 2nd spot in Division 3 and the E Team 2nd spot in Division 4. Perhaps though the highlight of the league season was the club hosting the final of the L&DTTL Frank Murphy Memorial Cup, with the final featuring two of our own teams! I am very grateful to all of our team captains for the way they have managed their teams over the year - and even Dave Roberts!
Our search for new premises has continued, but not yet come to fruition and we remain threatened with eviction from our current clubhouse. But that has not dampened our spirit and with the ongoing help of Sefton Borough Council, who have been most supportive, I am confident a long term solution will eventually be found.
All in all it has been an eventful, if at times difficult, year but through it all I have been grateful to all members for their help, cooperation and support. It is this spirit of the members within the club which has seen us continue to grow and flourish and which will, I feel sure, secure our future.
Graham Turner
Treasurer's Report
A copy of the accounts for the year to 30 April 2014 as presented to the AGM is available from the Treasurer or Secretary. These showed a surplus for the year of £314. A very good result.
Ian McElwee
Social Secretary's Report
In October 2011, the Club embarked upon a new chapter in their social calendar, renewing the long standing "end of season bash" - albeit that it wasn't held at the end of the season! The ticket price included a game of Irish bingo, a hotpot supper, a raffle, a few words from a guest speaker and rounded off by a disco.
Last year, the function was of a similar nature except that Line Dancing took the place of the guest speaker and the disco. In December 2013 a grand Christmas raffle was run, with the draw made at the Christmas Party. A sum of £104 was raised - Billy Clayton's idea! All in all, these social events have raised nearly £700 enabling the Club to purchase a new table tennis table. The functions have been well supported by members and their friends for which, the club says "thank you."
A further event is planned for this summer, to be held on Friday, 13th June at 7.30pm. This time there will be a group to "round off" the evening. Tickets are well priced at £12 each - not a bad price for what is on offer!! To secure a place just put your name on the list posted on the club notice board. Wouldn't it be great if 100 people attended, already the list is up to 50!
Other news on the social front is that:
- Wednesday morning continues to prove very popular with the 'more mature' members who are enjoying social and recreational table tennis from 9.30am until 1.00pm. Approximately 20 members regularly take part.
- There have been several 'birthday parties' particularly on Wednesday's celebrating those 'special' birthdays! The refreshments for these have been many and varied - including the odd bottle of wine and a few cans of beer! Not to mention a great array of sandwiches, cakes and biscuits!
- We have been encouraged to welcome 'juniors' into the Club this last year, and it has been great to see their progress - there is plenty of room for more!
- Coaching has been available for adult members in the week from Ian McElwee. Ian gives his time for these sessions on a Tuesday morning entirely voluntarily and free of charge - but this can only continue if there is sufficient numbers on a regular basis. Do speak with Ian if you are interested - you can find his contact details through this site under 'Club Treasurer'.
- It is planned to run another Club Tournament this summer, the exact details of which are to be determined. The results of last year's inaugural tournament are given below. Finals Night was a great occasion with over 30 members present.
- Finally, Val and Keith, from the Wednesday gang, have started organising bike rides, which will take place during the summer. Any club members who have a bike are invited to take part! The first bike ride was on Thursday, 15th May, starting from the Blundellsands Coast Guard Station, heading towards Southport along the coastal path. As the route followed the Liverpool to Southport railway line, those taking part could choose between travelling part or the whole of the route by "wheel" or by rail - or mix and match!! There were regular "social" stops along the way! If you don't have a bike find out where the "stopping points" are, and travel by rail to them. It is an effortless way of joining in a social day out with the "Bath Street Table Tennis" handle bar set! Colin will provide details of future rides if you would like to join in!
Ron Georgeson Memorial Trophy
2013 saw the first Club Tournament, introduced to the memory of former Club Secretary Ron Georgeson. Held over the summer months with Finals Night on a sultry August evening, with over 30 members present. It was a great event and the winners were:-
Ron Georgeson Memorial Trophy - Main Event: Winner: Colin Mitchell Runner up: Darren Taylor
Ron Georgeson Memorial Trophy (Plate) (a second chance for all 1st round losers): Winner: Graham Turner Runner up: Dave Bradley.
Colin Mitchell
Liverpool & District Table Tennis League - 2013/14 Season
The Club entered 8 teams into the Liverpool & District Table Tennis League for the 2013/14 season, and each team also took part in the respective Divisional trophies. In addition the Club also entered 6 teams into the Frank Murphy Memorial Trophy (the Veterans Handicap Cup). A brief report for each team follows.
TEAM REPORTS
The 1st Team (Div 1)
Members: Ken Jackson (Cap't), Fred Bainbridge, Julian Quirk
Position in Div P W L GW GL Pts
8 26 8 14 114 146 114
The announcement, just before the start of the season, that Gary Watson - who had been a stalwart of the 1st team for sometime - had decided to leave the Club was a major blow. And at first it looked as if it might be necessary to take the team out of Div 1. However at the last, Julian, who had newly signed on, and was set to play in Div 3, agreed to take the giant step up to Div 1. But a return of just over a third proved this was the right decision and although Julian had to miss a number of matches the team was able to get through the season, with a little help from the subs bench! Hitting the big 70 in the season didn't deter Freddie, but the truth is he was struggling to make an impact at this level. Ken however proved that he is still a quality player at the highest level with a two thirds return, and No.17 in the Top 20 averages. Enough to ensure a mid-table finish once more.
A Team (Div 1)
Members: Dave Roberts (Cap't), Clare Peers, Dermot Tierney
Position in Div P W L GW GL Pts
10 26 10 14 105 155 105
Had it not been for the unfortunate, punitive and unreasonable deduction of 10points the team would have finished 8th pushing the 1st team down a place! Captain Dave Roberts was the main stay of the team playing in all but 1 match and managing 4 substitutions for the 1st team, finishing with a division 1 average of 58.1%, just outside the Top 20 (21) for 1st division players qualifying for an entry in the averages. But Clare probably enjoyed one of her best seasons finishing with an average of 61.4% and placing her 19th in the Top 20 player's averages, the highest placed lady player in the League. For Dermot there were times when he just couldn't buy a win but he fought determinedly all season. Overall it was a good team performance, marred by most unfortunate events off the table. Team captain Dave says he now feels that he knows the Club Secretary's wife intimately! For although they have never met the number of occasions he has had to phone the Secretary this season for one reason or another means that they have now got to know each other quite well, and are definitely on first name terms!
B Team (Div 2)
Members: Colin Owens (Cap't), Rob Peat, Dave Stoddern
Position in Div P W L GW GL Pts
8 22 5 15 88 132 88
Being without team captain Colin for a period of time through injury made it an even harder than normal year in what is often referred to as the toughest of all divisions. However the availability of quality substitutes like Tony Kendall, and players from the D Team, played a major part in ensuring that the team was able to fulfil its fixtures and turn in some good performances. Both Rob and Dave played in all but one of the team's fixtures and Rob had one of his best seasons finishing with an average of 56.4% and at No.17 in the Top20 averages for this division. A tough year with some very enjoyable table tennis and good company.
C Team (Div 3)
Members: Brian Crolley (Cap't), Andy Cheung, Mal Kent.
Position in Div P W L GW GL Pts
5 26 15 8 141 119 141
The "C" team had a very good season, the availability of high class substitutes to cover the time Andy spent in Hong Kong and Mal was unwell made all the difference. Captain Brian somehow managed to play in every league game, an incredible achievement. The team finished 5th in the 3rd Division with 141 points averaging 5.5 points per match, which is a credit to all who played for the team. The team played consistently in every match with only a few really outstanding performances. Mal Kent beating Barry Davis in the BSM "C" v BSM "D" derby match, with outstanding table tennis from both players. Mal beating Paul Jennings by an incredible score in the 5th game at Wavertree Labour. Andy beating Paul Jennings on the same night 15:17 in the 5th game. Brian beating young Jack Gittings of M/Side Police 11:13 in the 5th after being 10:4 down in the same game. Best Shot of the season, was Tony Kendall's fore hand across court hit when playing in the doubles against Bootle YMCA "A". Best Match of the season was an 8-2 defeat by Sefton Park when 8 games went to 5 and we lost 7 of them very close in the 5th game. Another truly enjoyable season and the team captain particularly expresses his appreciation of all the substitutes who supported the team so willingly. In what was a most competitive division this was an excellent team effort.
D Team (Div 3)
Members: Barry Davis (Cap't), Ian McElwee, Ricky Brown, Colin Mitchell & Tony Kendall.
Position in Div P W L GW GL Pts
2 26 22 2 201 59 201
In any other season 201 points would have been a division winning total! And it is not often that you will find a team the quality of Maghull, with a top first division player, playing in Division 3! But that's the way it goes. The D team had a very successful season finishing 2nd in the 3rd division. Ian, Ricky, Colin and captain Barry played the games on a fairly strict rotation determined at the start of the season. It has worked very well and the team only needed to call on a reserve on one occasion. Ian finished 4th in the Division 3 averages with 88%, Barry 8th on 76.5% and Ricky 9th on 75%, Colin wasn't far off with 53.2%. All the players also assisted the higher teams with each playing just about all their quota of 6 substitutions. The teams determination is shown by the fact that we were involved in 39 five setters and won 64% of them! Captain Barry says, "It has been a pleasure to play with all the lads. At the start of the season there was a bit of pressure on us all for different reasons. The first game of the season was a real eye opener for Ian and Ricky. We won the away match 7-3 but there were 5, five-setters. At one point we thought we were going to have to call an ambulance for Ian who was breathing very heavily. Welcome to Division 3! As the season went on Ian's fitness improved and I don't think he lost a game in the 2nd half of the season. A tremendous effort after serious surgery. I'd like to place on record my thanks to Ian and Ricky for the help and advice they have given to the younger members of the squad this season! Their help during a game and later during a relaxing pint has been invaluable. Well done lads. Thanks for the season and I look forward to playing with you all again next season. I know that it will be harder again but I am already looking forward to the challenge." Not only did Barry captain this successful team in Division 3 he also led a team to victory in the League Veterans Handicap KO Cup (see News Stories for details).
E Team (Div 4)
Members: Graham Oates (Cap't), Ted Cramsie, Sam Pierce, Graham Turner, Keith Wright
Position in Div P W L GW GL Pts
2 26 22 3 188 72 188
Two disastrous results in the first half of the season, against Merseyside Police and Arriva - neither of whom were the top teams - made it look as if the team would finish in the top half of the table but not be quite good enough for promotion. But by the halfway stage the team had fought its way up to third, but still with quite a gap to the 2nd team Maghull B. The highlight matches of the first half were a 6:4 victory over Maghull B, and a draw against the top team East Wavertree. It looked as if things weren't going to improve in the second half when the team lost 7:3 in the return fixture with Maghull B in the difficult conditions at Maghull. But that was to prove to be the only defeat of the second half, and with 3 matches to go the team were for the first time tapping at the heels of Maghull B who were in 2nd place. This included a fantastic 6:4 win against the top side East Wavertree in which young Sam really excelled, inflicting a first defeat on their number 4, and dragging Graham through for a doubles win. In the penultimate match of the season it all fell apart for Maghull when they dramatically lost 10:0 to East Wavertree allowing the E team to sneak in to steal 2nd spot. A great finish. With captain Graham missing the end of the season due to 'nursing' duties, the team were able to make some excellent use of substitutes bringing in Darren Taylor (the No.1 of the F Team) at No.4, which was a major boost. Sixteen year old Sam had a fabulous season in his first year for the club, improving all the time, and finishing with an excellent 83.3% playing at No.3 & 4. This included some outstanding performances none more so than his contribution against East Wavertree and inflicting a rare defeat on Dean Appleton of QVC. Both Ted and Graham, playing at No.1 & 2 respectively, put in steady performances throughout finishing with 74.4% and 78.2% respectively. And captain Graham & Keith also made valuable contributions, especially in supporting the team's excellent doubles record. Overall a really enjoyable season, with a very exciting finale.
F Team (Div 4)
Members: Dave Noden Cap't), Darren Taylor, Ned Hassan, Billy Clayton, Jules Dutch, Tom Downing, Albert Parker, Michael White and James Sullivan
Position in Div P W L GW GL Pts
6 26 10 10 129 131 129
A newly assembled squad captained by Dave, starting his third season with the Club, Darren his second and Tom making his debut. Add to that the experienced Billy and Albert and expectations were positive for a top five finish. Early fixtures couldn't have been much harder with East Wavertree, who turned out to be the runaway champions of the division, and our own 'E' team, who ultimately finished 2nd. So, gaining a paltry 2 points in these first two fixtures was somewhat disappointing! But worse was to come, No 1 Darren, whilst retrieving a shot in what was developing to be an interesting game v Dean Appleton (QVC) at 10-2 up in the second pulled up sharply, and had to retire injured. A muscle tear was diagnosed and we lost his much needed services until the new year. Not wanting to sound like the voice of doom, a la Michael Buerk in the 90's documentary series 999 lifesavers, 'but worse was to follow'. Our latest 'signing', talisman Tom Downing was then ruled out for the season after his 3rd match, when a long standing knee injury became too much and Tom who was awaiting dates for surgery, having a further setback when it emerged he needed to have a heart operation prior to any knee surgery. This involved an Aortic valve replacement. Tom is now doing well but is still awaiting his 'new' knee replacement! He still looks forward to playing again as soon as possible. The squad depleted to Dave, Albert and Billy was complemented by Keith for the first win of the season, a useful and much needed 7-3 defeat of CADWA 'D'. A concerted effort was needed to avoid a season which could result in a battle for relegation as we entered October 'propping' up the division. A couple of draws brought some respite but further heavy defeats brought just 6 points from the next 3 matches. The squad was then boosted by Ned, new signing Jules Dutch and addition of 15 year old James Sullivan, albeit that all only had limited availability. Despite these setbacks, the stalwarts of Billy, Albert and Dave were playing well, holding the fort and returning good performances even though playing up a place or two than their original ranking order. This kept the team above the relegation places going into the Xmas break (which couldn't come quick enough). But still the injury jinx continued, first Dave being laid off for a month and finally Albert being hit by the injury hoodoo. But the New Year did see Darren back in action, a very welcome sight. The captain was left with no option than to hijack new boy Mickey White from the G team (sorry Des we only had 3 players!!). Mickey, returning to the game after a break and working temporarily in Liverpool from his native Sheffield, proved a more than useful acquisition playing the remaining 9 matches and only losing two sets. This coincided with a fine run, in the last 11 matches of the season we won 7 drew 2 and lost 2 (Darren and Dave missing in each of the 2 losses). So, in the second half of the season we scored 77 points compared to 52 in the first half. A great improvement. Of the six teams to gain promotion from the fifth last season only one, East Wavertree (who became champions), finished above the F team 'battlers'. No report for this campaign would be complete without mentioning the ever-green Billy 'Crystal' Clayton, not only was he the only player to remain injury free, he also played 24 league matches consecutively (not counting other matches for other club teams and cup games), and only missed one game during the entire season! All in all a really great effort after the setbacks earlier in the season, coupled with an excellent team spirit well done and a big thanks to all, not forgetting Best Wishes for a speedy and full recovery to Tom and Albert. Oh, and here's a team photo, with Captain Dave in the centre, 'Crystal' Clayton and Micky White to his left, and Albert and Darren to his right.
G Team (Div 5)
Members: Des Logan (Cap't), Keith Dudley, Tom Bell, Cyril Penny, Barbara Alcock, Mary Delamere, Liz Adams, Don Gibson, Josh Taylor, Gareth Miller & Carol Robertshaw
Position in Div P W L GW GL Pts
14 26 4 19 83 177 83
When the team acquired new Club member Micky White at the end of January, after a very tough first half of the season, it looked as if fortunes may start to change for the beleaguered team. Returning to the game after an absence, and having just moved to Liverpool for work at the docks, Micky proved immediately to be a very able player - and considerably reduced the average age of the squad. His contributions started to pick up a few extra points for the squad, and it looked as if they may finally be able to drag themselves off the bottom of the table. It was a little cruel when the F Team captain, inadvertently ended up transferring Micky out of the G Team by exceeding the substitution rule! Team Captain Des says, "This has been a very difficult playing year, and although we had numerous players available, few could be called upon, and the team 'backbone' is ancient!" A major blow was the loss of Cyril through injury, and family issues have also prevented other team members from regular appearances. Despite that all players, when available, seemed to enjoy playing and there was a good spirit in the team throughout. But without a genuine No.1 or 2 for much of the season it was always going to be a struggle. Both Keith and Tom showed genuine improvement, helped by the adult coaching from Ian, and good support was also provided by Liz and Mary as reserves. Despite holding up all of the rest of the teams in the League by finishing bottom it was an enjoyable season, but the captain says 'new blood' is desperately needed if the run of poor results is to be stopped.
Who is who?
The A blast from the past! Can anyone name the two individual's in this picture….. only 1 has a current association with the Club, the other was a former ETTA Chairman!
See if you can answer these????????
Who now thinks he knows the Club Secretary's wife intimately? ………………………….
Which BSM teams will be playing table tennis in a different division next year? ………………………….
What division did the Club's Treasurer play in for the season just finished? ………………………….
Who was the first winner of the Ron Georgeson memorial trophy? …………………………..
Overall how many teams did BSM have in the Frank Murphy Memorial Trophy? ………………………
Who has the nickname 'crystal'? ................................................
A Full report on the 2013 BSM Tournament can be found from News Features