News Release - BSMTTC News 98
Dateline: 09 September 2019
2019 Season Begins!
The 2019/20 season of the Liverpool & District Table Tennis League begins on Monday 9 September. The Club will have 9 teams in the League this season, including for the first time a new style 'Junior' team. The teams are spread evenly across the 5 divisions of the League and will also take part in the respective Divisional Cup events for the division that they are in. The teams will also be playing for the first time in the new conditions of the new club room at the Marine Travel Arena. Uncharted territory, let's hope it goes well!
Below we take a quick peak at each of the teams and assess their prospects.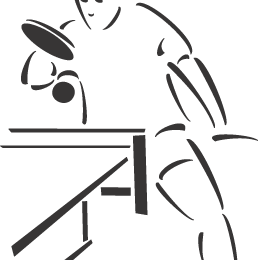 1st Team (Division 1)
Having finished highest of the Bath Street teams last season, Dermot Tierney's team have been placed as the 1st Team this season. Dermot is once again joined by the highly experienced Keith Williams, and Liverpool Ladies Champion, Clare Peers. Steve Green is likely to provide occasional support for the team. This is a highly experienced 1st Division team, and if Keith can continue to perform at his normal high standard then once again the team can be expected to feature in the top half of the division. Realistically they cannot get higher than last season's 4th place, but a finish at 4th or 5th would be a tremendous effort. If you want to watch some high quality table tennis pop into Marine on a Wednesday evening when this team or the A Team below are playing!
A Team (Division 1)
Barry Davis (Captain), Matt Wilson and Colin Turner will be the backbone of the A Team this season. All three are gaining experience at this highest level all of the time and will not be a push over for anyone. First and foremost will be working to secure survival in this toughest of all divisions. Last season they finished in a creditable 8th position. So the question is can they go one better among the 12 top teams? It will be a tough campaign and with no real quality reserves to call on it will need every member to be available for every match to stay the course. With players playing in more than one league that is going to be a big ask! But there is no doubting their fighting qualities.
B Team (Division 2)
Unexpectedly promoted to Division 2, Captain Dave Noden will have to manage his resources very well this season to keep the team in this very tough, higher level. Especially now that he is a new 'Dad' again! He will however enjoy support from promoted David Lovelady and has quality reserves in lower teams who he can call on to fill any gaps. Nevertheless, life can be hard in division 2 where there are significant very experienced players many of whom are capable of performing at the highest level, but prefer life at the slightly softer pace of division 2. The team can be expected to hold their own, and with a little bit of luck could end up just below half way. They will do well to secure 6th or 7th spot.
C Team (Division 3)
Ian McElwee (Captain), David Stoddern and Dave McMahon will form the main trio of the C Team in Division 3. They will however be joined by Euan Mason, moving up from division 4 and have the back up of Fred Bainbridge who is still a strong competitor at this level. This is a strong squad and if they can get the right combination of players out each week, could again do well. They finished 4th last time round, and could go one better with a little bit of luck. They also reached the final of the Divisional Cup last season and with a good draw could be in the mix again this year. Keep an eye on the team and especially on the progress of Euan, who will turn 16 in January. Although it is his exam year, let's hope he can still find enough time to continue his excellent progress at table tennis.
D Team (Division 3)
Captain Brian Crolley may now be pushing beyond 80, but you can bet your life that any team who has an encounter with his squad will know that they have been in a match! Brian is again joined by long time team mates Mal Kent and Andy Cheung. They have been around the middle of the third division for a while now, and there is no reason to think their powers have diminished! They have some good back up available for when the Chinese Champion is on one of his visits to Hong Kong, so the team can be expected to stay around the middle of the division 7th or 8th would be a fair assessment. One think is certain, that even if it is a tough match when played at Marine, it will be played in the best spirit possible with a great bunch of guys!
E Team (Division 4)
Team Captain Andrew Armstrong finds himself with just 2 of his last seasons squad. Himself and Keith Dudley. But he has been able to bring in Colin Mitchell, returning to the club after a short interval, and will be joined by the ever improving, Mark Benson who is moved up a team. There are also some reasonable reserves available unless their commitments to other leagues cause fixture clashes. The team are going to be tough to beat, and can be expected to pick up points across their order. They finished 5th last season but face some tough opponents again this year. They will do well to hold onto that position, but just keep an eye open as they might surprise us all.
F Team (Division 4)
New Team Captain, Steve McGing, must wonder what has hit him! Playing his first season of competitive league table tennis he finds himself thrust in as team captain, and pushed up a level to the 4th Division. The team had expected, until days before the start of the season, to be in Division 5. And to be frank, that is the level where you might have expected to find these players! But the Liverpool League in their infinite wisdom decided to push the team up, against the wishes of the Club, so Steve along with his team members, Steve McCormick, Richard Woodley and Sunil Sapre find themselves at the dizzy height of Division 4! If that wasn't bad enough, first contact from Richard advises his team captain that he is about to go into hospital for surgery and may be laid up for up to two months! Panic! Some hasty reshuffling of reserves has made the experienced Les Dodd available to try and help the team, but there is little else of any quality that they can call on. It will be a miracle if they can survive in this division, but then miracles do happen! Steve will at least have the support of wife Audrey in the team, so perhaps that will inspire him on.
G Team (Division 5)
Keith Hardman once again takes on responsibility for managing the 'squad', an onerous task in itself. Originally the plan had been to try and field both a mens and a separate ladies team in Division 5 this year. But unfortunately the ladies decided they didn't want to play as a team. Keith has the support of Barbara Alcock, Tom Bell, Tony Rimmer, Ian Brownrigg and Bernard Cooney and there are other reserves available too. But it is still difficult to see where points are going to come from. The team are however gaining experience all of the time, so their first target is to get themselves off of the bottom of the division. The derby fixture in this division could provide the key to that! Whatever the results the team will enjoy the experience and provide an enjoyable evening for anyone visiting Marine.
H Team (Division 5)
This season the Liverpool League have taken the bold step of introducing the concept of a 'Junior' team for the League. A junior team, in Div 5, must have at least 3 juniors playing in a match and if it does then it is allowed to play all of its matches at its home venue, and if authorised by the League, to play those matches on two tables. In the absence of any other viable option for its own juniors the Club has taken the equally bold step of entering a 'junior' team into the League! Des Logan and Graham Turner will manage the team and Finn Mason (14), Eleanor Sinker (15), Iris Mason (13), Henry Sinker (13) and Archie Mason (10) will place their heads in the lion's mouth to form a team each week. In truth this level, even for improving juniors, is too high for them. But it will be interesting to see if the team can stay the course and if so how they fare. Graham can be expected to gain a few points for the team, and anything else will be a bonus. But with continuing hard work. come the second half of the season there could be a couple of surprises. Expect this team to battle it out with the G Team for the privilege of holding up the League.
In conclusion.......
All that remains is to wish all of our teams the very best for the new season. Results and comments for all of our teams will be found on the club website throughout the season and also on the official LIverpool League website on TTLeagues at https://liverpool.ttleagues.com. What is certain is that everyone visiting Marine can be assured of a warm welcome and every match will be played in the best spirit of table tennis and accompanied by a decent cup of tea!