Chairman's Introduction
Once again can I commend to you BSMTTC News. Through which we will provide you with the highs and lows of the 2016/17 season of our Club. You will see from this Newsletter that the last year has seen continuing growth in participation in table tennis and particularly in our social daytime sessions and growth in our junior section.
​
I would like to pay tribute to all the officers of the club and volunteers who make it possible for the club to function. Good volunteers are hard to find, and we have some of the best. It is this band of willing volunteers who are largely responsible for the great development that the club continues to experience, and who have led so much of the success that the club has enjoyed in the last year.
​
Below you will find various reports and information about the Club and our teams in the Liverpool & District Table Tennis League. We would welcome any feedback.
My sincerest thanks to every member of the club for your active participation over the last year, and I look forward to another great year of table tennis at Marine.
​
Fred Bainbridge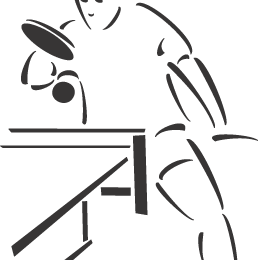 Secretary's Report
Where to start! Overall 2016/17 has been quite a good year for the Club.
First, we have been delighted to welcome new members and new league players to the Club. We have also said goodbye, in January to Julia Cornish who is now enjoying life in Worthing, and very soon we will be losing Miguel Monteiro who is returning home to Portugal in July. Miguel has been the solid rock of our team in Division 4 of L&DTTL this season and we shall be very sorry to see him go.
But so often as one door closes another open's. When we lost Julia, we were very pleased to welcome Jan Mort as a part time player. And more recently we have welcomed the young and talented David Lovelady who we are hoping if health permits will be able to take up a full time playing place next season.
We have also seen considerable expansion on the social front and it is encouraging to see so much daytime use of our playing room. Pity we only have two tables! And only one for serious play or practice. The contrast here is to look at the other clubs in our vicinity, like Waterloo and Crosby High, both of whom can offer multi table facilities, albeit not with the same amount of 'open' time that we have, and thereby effectively compete for the attention of 'players'.
The 2016/17 year started with the 2015/16 end of season social here at Marine with great food and Ricky Gleeson and his band. It will end in a similar way with another great social night on Friday 9 June (see Colin Mitchell or Mary Delamere for ticket information). Indeed, social occasions continue to feature prominently in the day by day life of the club. In the last year, we have celebrated two 85th birthdays, Don Gibson, and our President Billy Clayton. Both still regularly playing table tennis, albeit a little slower than hitherto! And there have also been other parties for 'significant' ages of members. How my recent 65th birthday was missed I really don't know! And of course, a great Christmas party, although I was a little disappointed that Santa didn't appear last year. More recently we have seen the introduction of a new 'coffee morning' helping to raise funds towards the renewal of the club premises (more about that separately on the agenda).
Much of the organisation on the social side is undertaken by Mary Delamere and Colin Mitchell who have both contributed to this report. Mary says "the social side of the table tennis section has become like a very big happy family. When we enter the club, straight away we are made welcome and nobody sits alone. We all have laughs and fun and someone to talk to."
Our social members often create a great atmosphere at league matches by attending and supporting a fact that has been commented on by several visiting teams.
Mary continues; "Keith Williams is coaching the social members and there has been great improvement over the weeks. Hopefully quite a few of the social members will be in the teams next year."
"The club is used more and more by the members for practice and there is a suspicion that some members are actually living at the club, they are there so often. All in all, the social side is doing great."
On the league playing front the Club was able to enter 8 teams into the L&DTTL, one fewer than last season. We also combined with Crosby High TTC to enter a team of juniors in the L&DTTL Junior Development Division. Full reports on each team will appear in the Club Annual Newsletter which will be published on the club website at the end of May.
Talking of the Club website 20 News Stories have been published over the last year, and I am grateful to all who provide pictures or information to enable that to happen. I do hope you keep an eye on the website, there have been more than 1100 visitors to it this season? We have also introduced a 'blog' as part of the website, publishing shorter, themed, articles; 23 articles were posted this year – and we could do with a new writer to take that forward….
Courtesy of my friend Miguel we have also joined the Facebook phenomenon, and now have our own FB page. One of our posts reached over 417 people and I think there have been about 63 posts this year. Any member of the club can provide information or ideas for posting to our FB page. If you are on FB do let us know and become a regular follower of BSMTTC. A few well-chosen comments on the posts would also be good!
Back to the league playing front. We had teams in every division this year. The A Team (Captain Ricky Brown) won Division 2, the return of Ken Jackson to active play having a big impact on that. The E Team (Captain Keith Dudley) won Division 4 and secured the double by lifting the Div 4 Divisional Cup. In fact, Keith has become perhaps the most successful club captain (certainly in the last 10 years) as his team, also made up of players from the Div 4 E Team, went on to win the Frank Murphy Veterans Handicap Cup. A brilliant achievement. All our league teams played in the respective Divisional Cup competitions and we also had 6 teams in the Veterans Handicap Cup. We also once again had the ignominy of the team holding up the whole of the league, our G Team in Div 5 really struggled, but throughout showed the best spirit of table tennis and were able to give some match play time to some of our juniors, who at times proved more successful than their much more senior mentors!
Talking of juniors, I would like to make special mention of our junior team. Euan & Finn Mason and Hugh Frediani-Bellis. They played in the U13 division of the L&DTTL JDD and won their division. They also went on to win the Junior Handicap Cup which featured teams from both the U13 & O13 divisions of the JDD. Euan Mason was also runner-up in the U13 singles at the JDD Tournament held at the end of March. It has been a very good performance by our juniors this year, and we continue to hold a weekly training meet for them at Marine on Monday afternoons.
On the league front, therefore we have ended the season with no fewer than 6 league trophies, more than any other club in the league this season. A tremendous achievement and maybe one that it will be difficult to follow…….
The Club Management Committee has met as and when needed and sometimes I even remember to publish the notes on the Notice Board! We have also enjoyed having new BSM kit for league players, and it has been encouraging to see most teams regularly making use of it.
The only other major issue of the year concerns our property and that will be covered separately on the agenda.
All that remains is for me to thank Team Captains for their management, Colin & Mary for the way in which they have managed the social side of the club and the Club Management Committee for its support, and particularly Dave Noden for his assistance with fixtures and cup competitions.
Overall it has been a good year, with expanding numbers. The Club continues however to face challenges and urgently needs an injection of new life into its management to take the club forward. Standing still is not an option.
Thank you all for your support and very best wishes for the future challenges.
Graham Turner
Treasurer's Report
A copy of the accounts for the year to 30 April 2017 as presented to and approved by the AGM is available from the Treasurer or Secretary. These showed a profit for the year of £557, after taking into account the exceptional costs of providing new club kit for all league playing members. Overall a very satisfactory financial result and because of this we have decided to dedicate part of our reserves as a 'property fund' towards the likely redevelopment of our table tennis room in the summer of 2018.
​
Ian McElwee
Social Secretary's Report
A report of the social side of the Club is included within the Secretary's general report above.
​​
Ron Georgeson Memorial Trophy
The 2016/17 Club Tournament is likely to be held just before the start of the next table tennis season.
Liverpool & District Table Tennis League - 2016/17 Season
The Club entered 8 teams into the Liverpool & District Table Tennis League for the 2016/17 season, and all also took part in the respective Divisional trophies. In addition the Club entered 6 teams into the Frank Murphy Memorial Trophy (the Veterans Handicap Cup).
TEAM REPORTS
1st Team (Div 1)
Members: Dave Roberts (Cap't), Clare Peers, Dermot Tierney & Sam Pierce
​
Position in Div P W L GW GL Pts
6 20 9 11 96 104 96
​
Another steady and consistent season for the first team finishing 6th overall in the top
division, not bad considering the division was affected by the loss of 3 teams before a
ball was played.
​
Regulars Dave Roberts, Clare Peers and Dermot Tierney played the majority of the matches but were also joined by Sam Pierce and for just one match by newcomer David Lovelady. Due to Sam's University life and other commitments he was unable to play as much as he would have liked and David, just trying to get back into table tennis after injury lay off, managed just one match.Other Bath Street players also contributed, kindly filling in when the team was short.
Clare had another great season again showing that she is able to compete and win against the elite players in the leagues. Clare ended the season on a very respectable 68% winning average. Clare's strong service and good counter attacking game proved troublesome for most players. One of Clare's highlights would have been her 2 wins out of 3 against divisional champions Merseyside Police's full strength team beating Joe Mullin and Mitch Barker on the night. It was also another steady and consistent season by team captain Dave Roberts. Dave, a very competitive player within the league, was able to match many of the attacking looping players in the division with his controlled blocking and placement game. Dave ended up the season on a 52% win average with good wins over the likes of Paul Gittins and Jack Dempsey; Dave one of only a handful of players to have beaten Jack this season.
Dermot also contributed to the team, picking up on average nearly a third of games and was competitive throughout loosing many close games. Dermot's performance improved towards the end of the season picking up nearly half his wins in the last three matches. Another honorable mention was Sam's two wins on the night against Crosby's Matthew Laird and Rhys Davies early in the season.
The team had a good run in the Divisional Cup making it to the Semi-finals but losing in a close match to Fords, the eventual trophy winners. On the individual side congratulations to Clare on again winning the Liverpool Closed Ladies Singles title (5th consecutive year) and to Dermot on reaching the finals of the Men's Doubles in the Liverpool Closed, with scratch partner Ben Chen. Unfortunately they lost out on Finals Night.
​
A Team (Div 2)
Members: Ricky Brown (Cap't), Fred Bainbridge, Ken Jackson and Ian McElwee
Position in Div P W L GW GL Pts
1 22 14 6 138 82 138
Captain Ricky Brown reports, "Overall a surprising season; from expecting to finish in
mid table to winning the division! It must be a long time, if ever, since a team all in their
seventies has won the second division title." Having been relegated from Division 1 the
previous season the core team of Ricky, Fred & Ian looked like a reasonably strong line
up for division two, and it is true that all three won more than they lost and enjoyed their table tennis. But the fact is that it was the availability of high quality substitutes that enabled the team to flourish. Important contributions from new boy Matt Wilson and from former team mate Barry Davis covered absences and health issues; and when Ken Jackson was able to return to full time play after Christmas the team took on a new lease of life. Ken proved what a quality player he still is, dropping just 1 set in the second half of the season to move the team up to pole position. There they remained, despite dropping the very last match of the season. Ricky ends his report saying; "so, in taking everything into consideration a very good enjoyable season. Where we go from here remains to be seen….."
​B Team (Div 2)
Members: Dave Stoddern (Cap't), Barry Davis, Colin Mitchell and Rob Peat
Position in Div P W L GW GL Pts
6 22 7 8 108 112 108
​
Captain Dave Stoddern says, "With only 12 teams in Division 2 this season
there were plenty of gaps but it was of the usual high standard with many
excellent players taking part with some good additions from last year in the
form of East Wavertree, who it felt like we played every other week!
As usual there were 3 really strong sides with nothing to choose between the
rest. We plugged away and regularly picked up points each week, in fact we
started and finished the season with a draw! Only comprehensively beaten
once, by the eventual champions, our A team, I think we did really well. We
had a new regular 3 with Barry Davis joining Colin & myself, in place of Rob
Peat who, due to work commitments, could only play a handful of games.
Barry has been so consistent week after week and I'm proud to say that he
played in and won more games than anyone in the division. It is hard to single
out a performance because there were so many but maybe his 3 against our A team of Ricky, Fred & Ian (which was also our best win) is high up there together with him doing the double over Roger Neale & Sylvia Graham from Crosby High. Both Colin & I gave 100% each time we played and we had our moments too. I think Colin's best wins were against Ian McElwee in 5, Israel from St Anne's & his now normal win against the wily Dave Harse. As for myself, I have to mention my 2 wins against Fred Bainbridge (sorry Fred)! But it is always an enjoyable game against him even if I had lost. I was also really happy with my 2 wins against Alan Timewell which really satisfied me for the patience I had to show (not normally something I have). Rob made a few cameo appearances and had great wins against Alan Chase & Lee Madin. I think we worked really well as a team and I think we all enjoyed playing together. It was a great achievement in the end to finish 6th (only 4 points off a Champions League place)!! We also got to the divisional cup semi-final but were always going to be up against it with both Barry & Colin missing and Rob not qualifying against a strong East Wavertree side. I would like to thank Barry & Colin for their great support, the team would also like to thank our club mates Rob Peat, Brian Crolley, Keith Dudley, Darren Taylor & Dave Noden for helping us out when we needed them.
C Team (Div 3)
Members: Brian Crolley (Cap't), Andy Cheung, Mal Kent and Ned Hassan.
Position in Div P W L GW GL Pts
9 24 10 11 112 128 112
​
Captain Brian Crolley reports that, "once again my team of Andy Cheng,
Mal Kent and myself played the season out, with the help of a number of
reserves, including Ray Hibbs, Les Dodd, Peter Ashley, Dave Noden, Miguel
Monteiro, Matt Wilson, Ted Cramsie and David Lovelady. All these reserves
contributed in each match to our points tally - sometimes more than the regulars!
Pretty good, and I thank all these players for helping out over the season.
Andy Cheung on 50%, Mal Kent 48% and Brian Crolley 33%, supplied the bulk
of the points but it highlights the need for excellent reserves and this is what
we got, thank you lads".
Brian says that, star wins were Mal's victory over Steve Braddick of divisional champions Maghull, Brian Crolley's wins over Alek Charchenco of Linacre and Lee Farley (Wavertree Labour), and Andy Cheung's 3 wins against Linacre. This division has proved tougher than usual this season, or is it that we are just getting a little older? Brian ends his report saying, "we can see another tough season ahead in 2017-18, but the current "C" team are fighters so the rest are in for an equally tough time! See you next season." And anyone who knows Brian will know exactly how true that is!
​
​D Team (Div 3)
Members: Dave Noden (Cap't), Ted Cramsie and Darren Taylor
Position in Div P W L GW GL Pts
7 24 12 8 132 108 132
The disappointment of losing Josh Taylor, due to his decision to take a break
from table tennis, was tempered by the welcome addition of Ted to the team and
relief with Darren confirming that he would be playing after considering taking
a table tennis sabbatical! As a result there was a quiet confidence of performing
well in the season from the outset, hoping perhaps to finish in the top 4, or at
least improving on a the 6th place of last season. Alas, this proved a little
optimistic due to the new found strength within the third division.
Dave reports, "we opened the season with two draws which made the initial
assessment seem realistic and there followed one of the best runs this team
has ever had, 5 straight wins gaining 37 out of 50 points to haul us up to a heady 4th position in the division. Darren playing arguably his best table tennis winning all but 1 of his 15 singles matches during this period and Ted and Dave weighing in with a creditable points tally. Undoubtedly the best performances where against Wavertree Labour B and C teams beating them 8-2 and 9-1 respectively, the latter with 5 matches going to 5 games with four being won by a 2 point margin the other by 3 points! However this 'rub of the green' didn't last. Perhaps these scores were a tad favourable; luck and points from then on were hard to come by! The next 2 fixtures were against top 4 teams, top of the table Maghull A, undoubtedly the best team in the division. So, after one of the longest unbeaten runs in the division and a stretch of 13 unbeaten from the last season this did prove unlucky for us, losing 7-3. Although some consolation as it could have been worse but for the form of Ted and Darren with a singles win each over the evergreen John Langton, and winning a great doubles encounter against two of the best players in the division in Michael Stewart and Steve Braddick. We then faced another drubbing 2-8 against Arriva NW. This was followed by perhaps our most disappointing result in the campaign, a draw with Bootle YMCA B. This was compounded by the fact that by the end of the season this was the only game the Bootle side didn't lose! Next it was lowly Sefton Park, and again we had to settle for a draw. It seemed that the "wheels had certainly come off" our season, mainly due to a combined loss of form and no luck at all! Unfortunately Darren then developed a shoulder injury which got progressively worse especially playing twice a week and playing in three weekend tournaments running! His season ended in March, missing 4 of the last 5 matches. But we were able to call on some quality substitutes. David Lovelady played in 3 matches, 9 sets unbeaten before he too had a return of his injury woes and is now awaiting knee surgery. Another 'deputy' who won't be playing for us again or the club, but not through injury, was Miguel Monteiro who also made winning contributions. Miguel is returning to Portugal; "Boa sorte com tudo que você faz". Also a big thank you to Ray Hibbs, Peter Ashley and Les Dodd who helped out when needed. Finishing 7th in the division only a point behind 5th place, a realistic target to better next season, but a very competitive division which has got tougher! Roll on September!"
​
E Team (Div 4)
Members: Keith Dudley (Cap't), Peter Ashley, Les Dodd, Miguel Monteiro and Graham Turner.
Position in Div P W L GW GL Pts
1 24 21 1 185 55 185
What a momentous season which commenced with an 8-2 victory away to Police,
who would ultimately finish second in the division, and whom we beat in the final of
the divisional cup. We established an early league lead and by December it was
clear that, bar hiccups, we could win the league. Eventually we won by 20 points
with only one loss and two draws; all mainly due to doubles slips.
​
Every game was important and the resolve of the team didn't waver, if anything it
increased as the prospect of the title got closer. Any slip up would be punished by
the chasing pack. This was a team effort par excellence. The effort epitomized by
our No.1 Miguel diving into the seating area on one occasion to retrieve to win a
point against Bootle. I nearly spilt my tea! Oops, I admit I sat this hard game out
along with one or two others to ensure winning the league!

Miguel, Graham, Les and Peter were a joy to play with and all were outstanding.
Peter, Les and myself also formed a Vets team in the Frank Murphy Handicap Cup, and to our surprise we got through to the final with a little help from Brian Crolley in the semi-final defeat of Waterloo, which was a very hard fought match. On Finals night, Captain Dudley addressed his troops, once more into the breach etc. With three sets to play we were 3 points down to Bootle. Keith having been eviscerated by Shakil Malik, staggered to the table feet itching, flatulent and concussed, a husk of a man. First game versus John Taylor 7-1 down, but like Lazarus, he stirs and gains 14 plus points. Only true believers like the team think we can do it with Les to play Shakil and Peter to play Steve Daniels, both very capable players from a higher division. Les gave a magnificent performance to beat Shakil by 9! Bootle are stunned, both players and supporters. 20 ahead and the colossus Peter takes Steve Daniels down with a virtuoso display of controlled big hitting, winning by 27 points. The spectators, Barry, Colin, Ken, Dave, Brian, Billy, Ted and Graham go wild! Thanks for your support. So, perhaps a never to be repeated season ends, the triple crown, League, Cup and Vets Cup. The heroes of Marine, the Nijinsky's of the fourth, I salute you all! Just a shame we are loosing Miguel, what will we do without him!
​
F Team (Div 5)
​
Members: Mary Delamere (Cap't), Tony Bramham, Tom Bell, Julia Cornish, Ilona Kuznik, Jan Mort, Graham Oates
​
Position in Div P W L GW GL Pts
11 24 5 18 74 166 74
​
On paper it looked as if Team Captain Mary Delamere had some quite good resources at her disposal. New boy Tony Bramham, in his first season with the Club, plus Julia Cornish who had been a member of last season's Division 5 winning team looked like a pretty solid starting point, backed up by Tommy and Mary, and with the ability to call in some useful reserves like Ned Hassan, graham Oates and new girl Ilona. But somehow it just didn't work out! Mary reports, "Our 5th Division team had a very enjoyable season. We only managed to come 3rd from bottom but it is the playing that is most important." For whatever reason, try as hard as they might there were times when the team just couldn't even buy a win. Then when Julia left the team at Christmas to move back south things looked even worse. But fortunately along came Jan Mort to play a few games but still no change of fortune. Even bringing in new players from the G Team squad like Ian Brownrigg and later Andrew Armstrong seemed to add no improvement in what proved to be a very strong bottom division. However Mary was able to say, "the atmosphere at the home matches is second to none. Our social members have provided encouragement and support and done their best to intimidate visitors. The visiting teams have all said how much they enjoy playing at Marine!" The main thing is that everyone who has played has enjoyed the experience and the team are now hoping that new members will be able to step up to provide reinforcements for next season.
​
​
​
​
​
​
​
​
​
​
​
​
​
​
​
​
​
​
​
​
​
​
​
​
​
G Team (Div 5)
​
Members: Des Logan (Cap't), Barbara Alcock, Billy Clayton, Liz Adams, Andrew Armstrong, Lesley Blanchard, Ian Brownrigg, Keith Hardman
​
Position in Div P W L GW GL Pts
13 24 2 21 53 187 53
​
Captain Des Logan says that "despite the efforts of Barbara and himself, with no credible No.1 the team could achieve only poor results". It is never easy being team captain of a large squad, trying to give matches to all and at the same time trying to put out the best line-up possible. Leslie, Keith and Ian all came into the squad for their first full season and despite their best efforts and enthusiasm struggled to get a win. Even though no wins they have improved and remain enthusiastic. The team had the benefit of being able to play newcomer David Lovelady for a couple of matches and whilst he won easily his sets it did little for the overall performance of the team. Commendable Des was also able to give some experience to juniors Euan & Finn Mason, who at time achieved more points than their senior mentors! Excellent contributions. Des says; "Nine players were involved and I played a rota system except for Barbara (she provided the scones!); an injury to Liz & fatigue to Billy! Considering the results morale remained high." In general division 5 has been much stronger this year but it is hoped that the continuing coaching for juniors and training from Keith Williams for some of the 'seniors' will show up in results next season along with potential new players coming in from the social scene.
​
​
​
​
​
​
​
​
​
​
​
​
​
​
​
​
​
​
Crosby High C Team (JDD U13)
​
Members: Euan Mason (Cap't), Finn Mason and Hugh Frediani-Bellis
​
Position in Div P W L GW GL Pts
1 10 10 0 245 62 245
​
In the L&DTTL Junior Development Division juniors from Bath Street combine with juniors from Crosby High to form teams for both the U13 and O13 age groups. Together enabling 4 teams to be formed. But this team featured 3 juniors from Marine. It is really difficult to know what to do for the best with young players for whom the structure of normal league play does not fit comfortably with schooling and the need to be finished and home by a reasonable hour of the night! So, when L&DTTL announced that they were going to run the JDD for the second time our club were delighted to once again join with Crosby High TTC to enter teams into this junior event. Designed primarily for youngsters not yet ready to take on the big stage of the normal league. Euan & Finn both played in the JDD last season, but this year they were joined by Hugh who only started playing table tennis in the autumn of 2016. With Finn and Hugh aged 11 coming up 12 and Euan starting at 12 and reaching 13 part way through the season the team were eligible for the U13 Division and were one of the 'senior' teams at that level along with Waterloo B. All 3 boys played in every single match, and put in some exceptional performances. In this division every single game counts and a point is scored for every game won. So all the juniors were really fighting for every single point. With all matches being played in the tremendous setting of the Anfield Sports & Social Centre there were some great evenings of junior table tennis. Each match comprised 3 sets of singles so every player played each of the opponents. It is of great credit to the three boys that in this division Euan & Finn finished No.1 & 2 respectively in the divisional averages with returns of 87 out of 101 and 85 out of 100 respectively. But special mention must be made of Hugh's contribution, finishing 5th in the averages with a return of 73 out of 106. Not bad at all for a first season in table tennis. The boys also played together in the JDD Handicap Cup which brought together teams from both age ranges. And here the better teams were very heavily handicapped! Despite that the Marine boys fought their way through to the final, and won despite giving away a massive 144 points in the final encounter. A truly excellent season for these three young hopefuls.
​
​
​
​
​
​
​
​
​
​
​
​
Graham Turner, Captain Keith Dudley, Les Dodd, Miguel Monteiro and Peter Ashley the "double" winning dream team. Taking the Division 4 title and the Divisional Cup in style. An accomplishment that may not be repeated for some time.
It's hard to believe, these are all line-ups for the F Team for 2016/17. With so much talent at their disposal how did they struggle so much? The pictures include; Tony Bramham, Mary Delamere, Julia Cornish, Tommy Bell, Leslie Blanchard, Ilona Kuznik, Ian Brownrigg, Jan Mort, Andrew Armstrong and Ned Hassan.
Just some of the many faces of the G Team squad, including; Euan Mason, Des Logan, Barbara Allcock, Andrew Armstrong, Ian Brownrigg, Finn Mason, David Lovelady, Billy Clayton, Leslie Blanchard and Keith Hardman.
Who is who?
And to finish with here is a little picture competition for you!
​
See if you can answer these ???
​
Which team captain proved to be one of the most successful captains ever in club history, lifting 3 major trophies in the 2016-17 season?
​
………………………….
​
​
​
​
​
​
Which new player thought that disguise would get them into the ladies team?
………………………….
​
And last ?
​
Which new Junior Member playing in his first season of table tennis with the Club ended up with two winners trophies? And it isn't Ian McElwee!
​
………………………….
​