News Release - BSMTTC News 49
Dateline: 5 September 2016
New Year, New Start
With just one week to go to the start of another new season of the Liverpool & District Table Tennis League it is a busy time of the year. End of the summer holidays, the kids back to school, and the start of a new season. And it looks like another long season with the League retaining the 14 team structure for each division rather than the more normal 12 team structure. With none of the Divisions being full the long structure will also mean gaps, especially for those teams that exit cup competitions early. But still plenty of opportunities for club members to enjoy some competitive table tennis.
​
The Club has just 8 teams in the League this season, a net reduction of 1. In effect though, we have lost 2 teams at the top and added a new team at the bottom. At least we have teams across every division this year so there should be opportunity for all players to play at the level that best suits them. We have 2 teams playing in new divisions this year, last years B Team were relegated and will play in Division 2 this year (as the A Team). And the G Team were promoted to Division 4 and will this year play as the E Team. Ricky Brown is appointed as a team captain for the first time, and will captain the A Team.
​
Here is a brief look at each of the Club's teams, and how they might fare.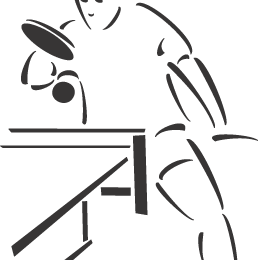 1st Team (Division 1)
Dave Roberts team will this year move up to become the Club 1st Team, recognising the fact that they have finished highest of the Club's teams in Division 1 in the last 2 seasons. Dave will again be joined by Liverpool Ladies Singles Champion Clare Peers and the still improving Dermot Tierney. The team will also take in a newcomer with Sam Pierce moving up for his first serious taste of life in the top flight of the Liverpool League. This is a very settled and stable team and with consistent good performances from Dave and Clare the team should again be mid table come May next year. A 6th place finish would be a good steady effort.
A Team (Division 2)
Although relegated from Division 1 last season, the team could have retained a place in that division, but preferred something slightly less challenging. Ricky Brown has taken over the captaincy for the first time, as a result of Barry Davis moving to help the B Team. Ricky will be joined by Ian McElwee and Fred Bainbridge. If all 3 players can play regulalrly and play to their potential we confidently expect the team to once more be in the mix for a top spot in the division. They certainly have the skill and the experience, but there remain questions of fitness and with few quality substitutes available any lapse could mean giving another team the edge. Expectation is though that they will finish in the top three.
B Team (Division 2)
​
Captain Dave Stoddern was particulalrly disappointed to learn that he is loosing his No.1 and long time playing partner Rob Peat this season. A changed work pattern means Rob is likely to be able to only make a few matches this year, so will become a reserve. However Dave has managed to negotiate for Barry Davis to join the team and so Barry will join Dave together with Colin Mitchell. If the team could get Rob and Barry together in a few matches then this could have a real impact. Hopefully the team will be able to consolidate their position in Division 2, and whilst it is not expected that they will be contesting one of the top spots a mid table finish would be a very good performance in what is notoriously a tough division.
C Team (Division 3)
In Brian Crolley the C Team have one of the most experienced team captains, not to mention possibly one of the oldest! Brian, along with his team members of Andy Cheung and Mal Kent, with back up from Ned Hassan have been around the third division now for a good many years and are one of the most respected, and friendliest teams in the whole division and probably the whole league. But if any team expects an easy night against them, they will have to think again. For Brian and his team mates are some of the toughest competitors you will encounter anywhere. And if there is a point to be won they will fight all night to gain it, and it often seems as if literally they do, judging by some of the finish times of their matches. We expect the team to again be around the middle of the table and anyone either playing for them or against them will have one of the most enjoyable evenings of table tennis of the whole season.
D Team (Division 3)
Captain Dave Noden and his team made a solid start in Division 3 last season, ending the season just 1 place above Brian's 'C' Team. However the loss of Micky White in the midst of last season and Josh Taylor at the end of the season led Dave to think that he may have to move teams this year. Josh has decided to hang up his bat for a short while with the arrival of a new baby in his home. The team No.1 Darren, Josh's Father, was also contemplating a break. However, the news that Ted Cramsie would be joining the team this season has revived team spirit and Dave, Darren & Ted look like a force to be reckoned with in Div 3. They may not be division winners, but they could well be in the top 4. With a range of styles and skills they will prove to be a hard team to beat and Ted will add steel to the backbone of the team. keep an eye on them they may just be an outside bet.
E Team (Division 4)
Having gained promotion from Division 5 last season, this team led by Keith Dudley, could again be in contention in the race for honours in Div4. But they will have to be at their best if they are to repeat last seasons performance. The team start the season with two advantages. First the team is more settled with the regular 4 of Keith, Miguel Monteiro, Peter Ashley and Graham Turner. And they now have strong back up with the addition of Les Dodd to the squad. This makes a team with no obvious weaknesses, but Div 4 will prove to be a far more competitive division than 5 was last season and the opening match against very strong opposition should be a barometer of how they might fare if they can keep the team playing regulalrly over the season. Expect the team to finish in the top three.
​
​
​
F & G Teams (Division 5)
The Tuesday & Wednesday morning social table tennis at Marine has proved very popular. And for the first time some of our newer 'social' members are going to try their hand at competitive league table tennis. This could be a baptism of fire for some, but hopefully all will find the experience enjoyable. Managing a 'squad' of players in Div 5 has always been a difficult task. So this season we thought we would make it even more difficult by dividing the squad into two. But of course then the problem is, who goes where! And who is fit enough to play! One inside source said, "I turned up today to a lot less people in attendance than normal, probably due to the time of year and the weather, not many people want or choose to stay indoors to play table tennis on such a lovely day. But it felt more like a convalescent home than a table tennis club, people recovering from injuries and being careful. Lesley (one of the potential new players) had been unwell, following a tooth extraction, she then tripped in the street and help was administered by passers by; Lesley seemed to think the trip may have happened as a result of the after effects of the anaesthetic. But she is OK now". The fact of the matter is that one of the 'niche' markets that the Club has is providing an excellent environment for social and recreational table tennis to the 'more mature' adult. But playing league table tennis is another matter. Still there is plenty of enthusiasm amongst our 'seniors' so it was left to the two potential team cpatains Mary Delamere and Des Logan to work out a potential split and suggest some teams. Our reporter says "several of the new people expressed a wish to play in the league in September, these inlcude Lesley (Blanchard), Ian (Brownrigg) and Keith (Hardman); these have greatly benefitted from the Friday coaching sessions taking place with Keith Williams. He has been greatly praised by members attending as it is said he explains things on the persons level which seems to make a difference; this is why people Like Lesley and Ian have improved and are excited about the possibility of playing in the new season".Ian, Keith and Lesley have therefore been joined with some of the existing regular players like Tom Bell, Billy Clayton, Barbara Alcock and Julia Cornish and two teams have been created. We are also hoping that youngsters Euan & Finn Mason will be able to sample league play for the first time this season and they too will join the squad. Finally we have been able to add to the squad Tony Branham, an old school friend of Tom Bell, to play in the Liverpool League for the first time at the club.
For the first time for some years it would have been possible to put an all ladies team into Div 5. The picture below shows the last time this occurred in 2002, and two of these ladies could have been in a ladies team this season! But the team captains decided that in order to achieve a better balance two mixed teams would be preferrable this time.
​
So, the 'F' team which Mary will captain, will have Mary, Tony Branham, Julia Cornish, Tom Bell and Lesley Blanchard. This is a reasonable team and hopefully will be in the middle of the table.The 'G' team, which Des will captain, will have Des, Billy Clayton, Barbara Alcock, Ian Brownrigg, Keith Hardman, Liz Adams and Biraja Roy. The two juniors Euan & Finn Mason will support both teams with Euan hopefully playing regularly in the G Team and Finn taking a second term in the Junior Development Division if the L&DTTL decide to run it again this year. The main problem for this team is that they have no obvious No.1 so they may be expected to struggle a little whilst new players find their feet. On the new teams, our reporter says "President Billy Clayton didn't have much to say for once, other than the fact that at 85 he hopes he will still be able to play too, but had hoped there may have been a better experienced player to play in the new team to help guide and assist the players". There is none better than Billy though to help guide and assist.
The last all ladies Bath Street team. Two of the ladies are still active league players, but Beryl & Lil are only able to come to the Club occasionally now. Myra, along with members of her family sponsor a L&DTTL trophy, The Frank Murphy Veterans Handicap cup in which the Club has had such great success in recent years.
In conclusion.......
All that can be said now is, best wishes for the new season. The teams are ready and raring to go. Full information on every one of the clubs teams can be found either on the club website or on the L&DTTL website at https://www.tabletennis365.com/Liverpool. What is certain is that everyone visiting Marine can be assured of a warm welcome and that every match will be played in the best spirit of table tennis and accompanied by a decent cup of tea!